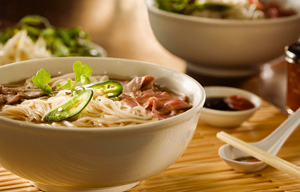 Pho is a tiny Vietnamese place adjacent to the coffee shop on the main floor of the Treasure Island (TI) Casino/Hotel at 3300 S. Las Vegas Blvd. It's open all-hours, and has an interesting combination of goodies, some authentic Vietnamese, and some that are more Chineseified. The star of the show is the Summer Rolls (they call them "Spring Rolls" (Gui Cuon). Shrimp and pork, daikon, carrot, cilantro and other goodies are wrapped tightly in thin rice paper and served with peanut sauce for dipping. They are served crispy and cold, and not deep fried. The Foodie loves Banh Mi sandwiches (slices of pork with crunchy marinated veggies and sliced peppers with a touch of mayo in a crunchy French roll) but I have to tell you these are not quite as good as I have had elsewhere. The pork has kind of a barbecued flavor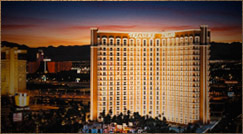 and doesn't do justice to the delicate vegetables that make it a Banh Mi to begin with. Why not get their namesake, Pho (pronounced "Fah"), the traditional Vietnamese Soup served with rice noodles, sliced jalapenos, basil leaves, bean sprouts and either chicken slices (Pho Ga) or Beef (Pho Chin). Also try the deeply spiced Curry Chicken with Steamed Rice (Com Curry Ga).
It's a fun place to go late at night when you want something fairly light, then you can walk it off by strolling the TI casino floor, crossing over Las Vegas Boulevard to check out the shopping at the Palazzo/Venetian, or scurrying next door to the Mirage. (L., D. late) Click here for a look at the menu. Price range: Moderate.