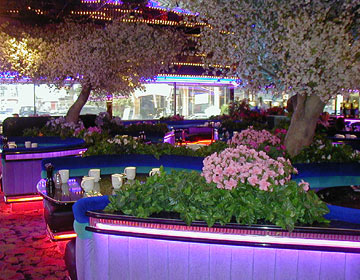 The Foodie likes to move under the radar, mingling with the masses and the Great Unwashed to root out new places that are not quite on the beaten path. Such is the case with the Peppermill restaurant, on the east side of The Strip just north of the Riviera and just south of the Sahara (directly across from the old Stardust, long since imploded).
This is diner food, well done, served by perpetually rushed but friendly locals. The portions are large, and they have a huge counter (The Foodie stakes out his territory just around the bend toward the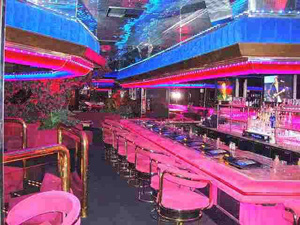 back so he can keep tabs on the comings and goings). They are 24/7, and there are very few food items that are not on the menu. Huge omelettes, pancakes the size of '57 Chevy hubcaps, and all sorts of sides barely describes the breakfast selections. I love their salads, and their Classic Cobb Salad is one of the best I've ever had. It is gigantic, and though it is a "salad," you'd better be hungry.
The Foodie sometimes sobs quietly over the lost art of the really good Club Sandwich. I happily trek all the way from The Mirage to get Peppermill's "Clubhouse" (freshly toasted bread, turkey, bacon and ham (no cold cuts here), sharp cheese–cut into the regulation triangles). Other entrees include chicken-fried steak, a selection of basic Italian and Greek entrees, steaks, pasta dishes, burgers (of course), etc. etc. Again…your computer doesn't have enough memory for me to list everything on the menu (see link below).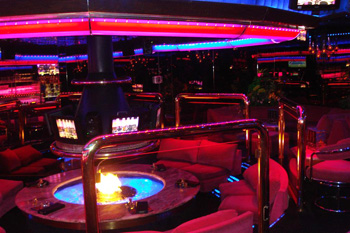 The bar in an interesting place, lit mainly by cobalt blue neon and a huge firepit. Slot Machines lurk in the nooks and crannies–even the bathrooms are fun, outfitted in art deco style. Fine dining? Of course not. A great place to get a big breakfast after a hard night in Sin City? Absolutely. There's something for everybody at the Peppermill–especially after dark in the bar. Of course, what happens in Vegas…. (24/7, Bar) Click here to take a look at their menu (courtesy of usmenuguide.com). Price range: Moderate.
Credit for the top picture goes to usmenuguide.com.