We know that YOU couldn't have missed last Saturday's Sip & Bite show with Terra, Chris, Glenn and Chip! But word on the street is that SOMEONE did. If you happen to run into him or her, say, "All is forgiven. Just click the chosen podcast below." You will have done a good thing.
Meet Lewes hotelier and restaurateur Chris Becker. She's joined by her P/R guru Terra Dillon. They give us the back story behind Lewes' Rose & Crown, Jerry's Seafood, Blue Sea Cafe and the Hotel Rodney.
It's Magnificent Managers once again, with a(MUSE) restaurant GM Glenn Vernon and Blackwall Hitch Kitchen Manager/Chef Chip Miller. They reveal potential issues between front of house and back of house!
ON 'SIP & BITE' TWO WEEKS AGO
A restaurant/carryout in a car repair shop? In Lewes, anything is possible – especially when the restaurant is actually good! Meet Mike Hazzard and Woody Voelker from Savannah's Deli & Grille.
Tia Sexton is the founder of 14 Global – a unique, upscale eatery in Bethany Beach. She is joined by new new chef, Kevin Daughaday. Tia and Kevin give us a behind-the-scenes peek into service, pricing and the like.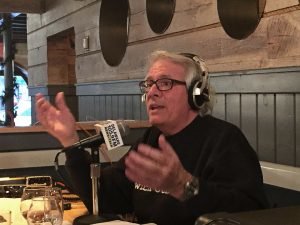 Feast your ears on Sip & Bite with the Rehoboth Foodie every Saturday from 3-5 on Delaware 105.9FM.