We know YOU didn't miss the Sip & Bite show last Saturday, but if you run into the one or two who did, tell them they can make everything right by clicking below to listen to Count Manfredo, Paul, Mike, Chad, Cheryl and Vaughn on their phone or computer. Seems only right….
Count Manfredo di San Bonifacio brings his wines to Delaware with the able assistance of sommelier Mike Zygmonski, Vintage Imports' Paul Karp and Bluecoast manager Chad McMaster.
Meet the big boss at the newly rebuilt Gilligan's in Lewes! Cheryl Tilton is joined by her longtime GM Vaughn.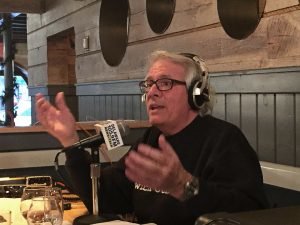 ON 'SIP & BITE' TWO WEEKS AGO:
Meet Delaware Tech's Culinary Instructional Director Ed Hennessy. This seasoned chef is bringing a lot of respect to Delaware's culinary education.
Kylee and Lynn Rickards agree: There's nothing like Morning Buns … in the morning. Double entrende aside, wait 'til you taste the croissants at their Bethany bakery!
Feast your ears on Sip & Bite with the Rehoboth Foodie every Saturday from 3-5 on Delaware 105.9FM.