Most people think that Popeye's was named after the spinach-loving cartoon sailor (you know, Olive Oyl's main squeeze), but actually, New Orleans resident and Popeye's founder Al Copeland was inspired by the character Popeye Doyle from the film "The French Connection." Tell 'em you heard it here first, kids!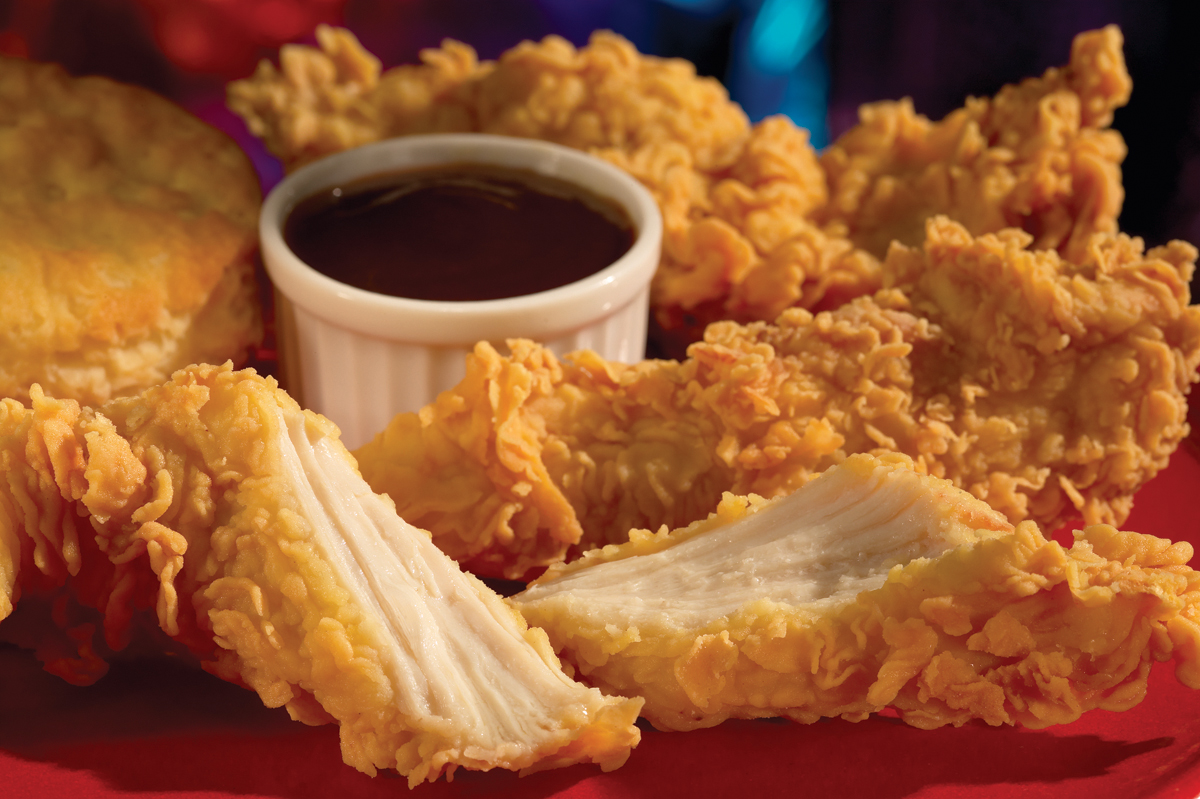 When Popeye's is good, it's REALLY good. But don't just take The Foodie's word for it. The crunchy chicken is a secret guilty pleasure for many, including David Chang (chef/owner of Momofuku and three other establishments in NYC), and Union Square restaurateur Danny Meyer (owner of the ultra-hip Maialino, The Modern at MOMA, plus four others). Though I have been sworn to secrecy, I know 3 Rehoboth Beach fine-dining chefs who stop by Popeye's for carryout after slingin' fru-fru all day. Don't worry guys (and actually 1 gal) my lips are sealed.
The chicken is well spiced, but not uncomfortably hot (even the "spicy"). It's moist and juicy on the inside and crunchy on the outside (thanks to the frying technique) and perfectly done all the way to the bone. The biscuits are rich and buttery, firm on the outside, steaming and yeasty on the inside. I love to make a little fried chicken mini-sandwich on one (or maybe two) of those wonderful little salty discs. As usual, I'm ahead of my time: They've since added the "Chicken Biscuit" to their lineup (my little sandwich–I should have copyrighted it!), along with the Delta Mini (a chicken "slider" on a teeny roll). Note that these specialty sandwiches don't spend very long on the menu, so you might have missed out already.
I've always been a fan of the Cajun Rice. It used to be called "Dirty Rice," but they wimped out and changed the name. A darkly spicy mixture of long-grain rice and little pieces of ground beef and chicken gizzards, this uniquely Southern recipe is moist and savory. I've been to New Orleans many times (specifically to try out the eateries), and, believe it or not, few cajun (or dirty) rice offerings have surpassed Popeye's. The cole slaw provides a cool and crispy foil to the hot fried chicken and buttery biscuits. I do wish that the Red Beans and Rice side were more highly spiced. The taste is a bit one-dimensional and seems to lack the depth of flavor so prominent in the rice and the chicken.
Popeye's is a prime example of a good fast-food product being at the mercy of the managers and employees of the individual locations (take a look at my little tangent in the 5-Guys review). As I said before, when it's good, it's really good. But, sadly, I've been to more than one location that was operated like it was run by elementary school children (no offense to elementary school children). Soggy, rubbery chicken, poorly made sides, dry biscuits, almost comically rude and off-handed service … and I believe it's all in the management. We are indeed fortunate to have a good installation here in Rehoboth Beach, on a pad right in front of Walmart at 4493 Highway One. I've stood back and observed the activity behind the counter, and, for the most part, there seems to be strong management and a genuine concern for the orders being right, especially when they are busy.
I like Popeye's chicken, and I refuse to waste the calories on it if it isn't the way it's supposed to be. So, dear Reader, I'll provide you with a few little guidelines about the Rehoboth Beach Popeye's. You will get your best chicken when they are busy. The fryers are running all the time, and the chicken hasn't spent a lot of time under the heat lamps. I suspect they know this, and you will sometimes have to wait for your chicken, as they make it in small batches. THIS IS NOT A BAD THING. I'd rather wait 10 minutes for chicken fresh out of the cooker than have something on my plate that could legally file for Medicare. Secondly, you will also get their best service when they are busy. The worst service (and the most screwed up orders) at this location have happened when I was one of maybe only 2 or 3 other customers. I have no explanation for this, except that maybe the manager is gone or otherwise unavailable during the off-hours.
If you catch this place during a busy lunch or the dinner hour with lines at every register, I can almost guarantee a perfect fast-food meal. They are open every day, and they also have a drive-through. The people running the window have always been polite and helpful. If you must, you can give them a call at 302-645-5433. Click here to take a look at Popeye's menu. (L., D.) Price range: Inexpensive -.