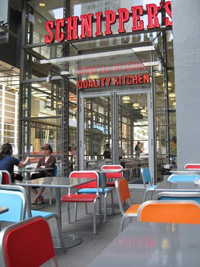 A Sloppy Joe is a mysteriously satisfying amalgam of tastes and textures. Is it a hamburger? No, too loose, with no definable shape. Is it a chili sandwich? Nope, no chili powder "bite" and chili is usually a more chunky. And definitely not spicy-hot. A good Sloppy Joe is a delicate balance between saucy/meaty and sweet/savory. The primary sweetness evolves out of a hint of green pepper riding ever so slightly above a spark of brown sugar. There are lots of other ingredients, but none dominate. It simmers long enough that every bite becomes a vehicle for that elusive umami, what the Japanese call "The Fifth Taste": Savory and softly sweet, not greasy or slick, melting on the tongue as quality lipids convect into the nasal cavities. It is made delightfully portable with a soft, yeasty roll that soaks up the juices and becomes a critical part of the experience.
And there it is: At the corner of 8th Ave. and 41st. St. in Midtown Manhattan. I first found out about this place on an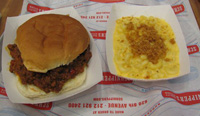 episode of Bobby Flay's Throwdown on Food Network (he lost–it's OK–he loves it when he loses). I have eaten in Bobby Flay's establishments many times, and I can recognize his proclivities in the taste department. His detailed description of brothers Andrew and Jonathan Schnipper's Sloppy Joe was classic. I was on the Turnpike within a week.
Schnipper's caters to the delicate and the dainty with tuna fish sandwiches, tacos, burgers, salads, blah, blah, blah…What…I'm going to schlep three and-a-half hours for a tuna sandwich!?! You get what they do best. (Though a side of their creamy Mac & Cheese won't hurt a bit [pictured].)
Get the Sloppy Joe. Heck, get two.  Forget the cheese and all the other nonsensical toppings. If you ever had a Sloppy Joe as a kid and loved it, this will transport you back like a gastronomic time machine. (B., L., D.) Click here for a look at their lunch and dinner menu. Price range: Inexpensive.