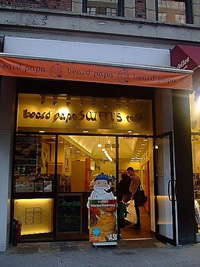 Beard Papa is one of California's best-kept secrets. And it's all about Cream Puffs [pictured, right top]. They also have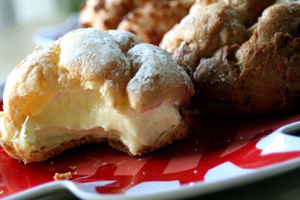 a number of locations in Canada, Saudi Arabia, Italy, Guam, El Salvador and Hawaii. The easiest one to get to from here is the single Beard Papa in New York City.
Get 'em in a 3 pack, a 6 pack or whatever. But just get 'em. Each shell is filled when you order it so they don't sit around and get soggy waiting for you. The process is very simple and wonderfully rewarding: You line up single file (in the morning the line snakes out the door onto the sidewalk). As you enter, you spy a mountain of light-as-air Pâte à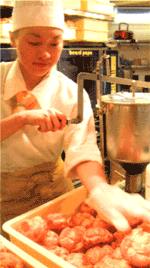 Choux shells, patiently waiting to be injected [pictured, right] with some of the most delectible, light yellow, slightly eggy vanilla custard filling you've ever tasted.
You squeeze into a tiny IKEA-like table arrangement in the back (obviously designed by people who don't eat cream puffs), or you take your precious sack of pastries outside and find a quiet nook or cranny where you can devour them.
You will probably end up back in line to get some more. Don't expect them to travel. Once they are filled they must be eaten immediately. Beard Papa is on the Upper West Side at 2167 Broadway between 76th and 77th. (While you're up there, browse around Zabar's Kosher Supermarket at 77th and Broadway. It's quite an experience.) Check their hours at (202) 799-3770. (B., L., D.) Click here to see the menu. Price range: Inexpensive +.