Blink and you'll miss it. Cancun is a tiny Mexican joint just a few doors north of 55th on the west side of 8th Ave. Filled mostly with locals and bar patrons watching TV, the food has been consistently good for over 20 years. Getting to the point: Cancun has what is possibly the best restaurant salsa I have ever had. I've even cajoled them into giving me some in a styrofoam cup (with a top) so I can take it home. Never once has it made it past the southbound Turnpike toll booths.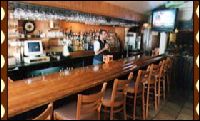 After you've dribbled a trail of salsa between the authentic-looking molcajete (kind of a stone mortar/pestle without the pestle) and your mouth, order the Queso Fundido (Oaxaca and Chihuahua cheeses are baked with spicy Chorizo). Now how can that be a bad thing? The Tortilla Soup is also delicious with cheese, avocado and crispy shredded tortillas. Always a lover of the basics, I have to get the Nachos, too. It's all about the creamy taste of the cheese. I want some right now.
One of my favorite Foodies loves the Chicken Mole entree. Mole is an interesting concoction, and there really isn't a definitive recipe for the dark, savory and ever-so-slightly sweet sauce (with the tiniest hint of chocolate). But you'll know when it's good, and Cancun's is good. I also like the Shrimp Enchiladas (stuffed full with all kinds of colorful goodies) and the Enchiladas Bandera (three huge enchiladas filled with cheese, chicken and beef). Feeling fried? Try the old standby Chimichanga (spiced and shredded chicken rolled with that creamy cheese and onions in a flour tortilla, quickly fried and accompanied by all the required Tex-Mex  fixin's).
Though the leaning is obviously Tex-Mex, Cancun restaurant in New York City also has an interesting selection of Seafood and Shrimp entrees that have consistently satisfied over the years. (L., D., Bar) Click here to get to their site, then click "Menus." Price range: Moderate.