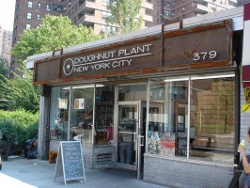 I will admit to being a little prejudiced against Doughnut Plant after owner Mark Isreal pouted like a big baby when he was challenged to a Throwdown by Bobby Flay several years ago on the Food Network show of the same name. That was before I went there. All is forgiven, Mark. Obviously that emotional reaction was a reflection of your passion for baking only the best.
Trust your Foodie when he tells you that these are quite possibly the most delicious pastries he has ever had the pleasure to consume. I say "pastries" because some of Mark's creations are square; departing from the standard-issue round doughnut. If you make the trek down to the lower East Side in NYC (you can always combine it with a visit to Katz's Deli, just a short waddle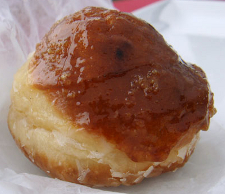 away), try the Tres Leches (there are no adjectives sufficient…), the square PBJ-filled, and the yeasty vanilla custard-filled Creme Brulee-topped [pictured] (the sugar is bruleed with a torch!). The Blueberry Glazed, Roasted Chestnut and Cranberry doughnuts are also indescribable, There are others. Try them all.
No, this is not an ad for Doughnut Plant. Mark doesn't need The Foodie to sell his goodies. Don't believe me? Check it out yourself. Doughnut Plant is at 379 Grand Street. If you find yourself in Tokyo, there are nine Doughnut Plants there. But it's a heck of a commute. (B., L., D. until the fresh doughnuts run out). Click here for a menu. Price range: Inexpensive +.
Credit for the store picture goes to Erik S., and thanks to Cathy YL Chan for the doughnut picture.