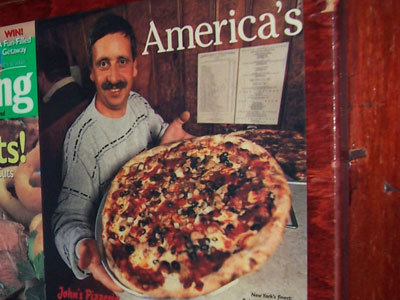 Whenever they crow about New York pizza on the Food Network, they never miss Lombardi's (apparently the first pizza joint in the USA. MENU), and, of course Totonno's, opened in 1924 at Coney Island.
But there never seems to be enough attention given to John's Brick Oven Pizzeria. John's has three locations in NYC, and my favorite is the one right in midtown on 44th between 8th and Broadway. Like the other places mentioned above, John's ovens are fired with coal. The thin crust pizza cooks in a matter of minutes, puffing up slightly charred bubbles and putting a crisp edge on the toppings.
This is The Foodie's favorite pizza, hands down. Get a seat at the bar, order a cocktail or a tall beer, and ask them for a large with sausage and pepperoni. No sagey breakfast sausage here. This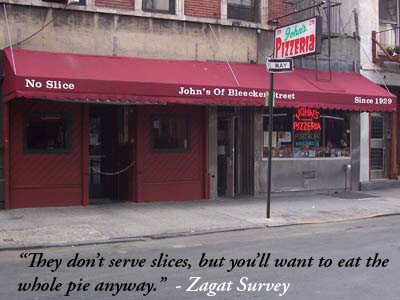 is thinly sliced Italian sausage with a nice spicey bite to it. The crust has a delicious "pull," and the bottom will be dark and crunchy. The other two locations are in the Village on Bleeker [pictured] between Jones and Morton (their original location, and there always seems to be a line) and uptown on E. 64th between First Ave. and York Ave. (they never seem to be busy).
So before you trek off to Brooklyn or Coney Island, give John's a try. One caveat: The don't serve slices (it's even printed on their shirts). But that's OK…you'll want the whole pizza anyway.  Click here for John's menu. (L., D., Bar (at 44th St.) Price range: Moderate-.