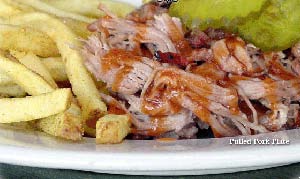 Jim 'N Nick's has 5 locations in Georgia, but The Foodie is most familiar with the Jim 'N' Nick's installation in Hiram, about 30 or so minutes outside of metro Atlanta. You can tell when you turn the corner that this is genuine BBQ. There's a stack of hickory out back, and you can smell it even before you see it. One of the stars of the appetizer show is Jim 'N Nick's cheese biscuits, brought to the table even before you've had a chance to swallow your "emergency" Lipitor. They are wonderful little cheesy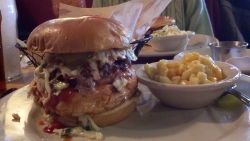 morsels (The Foodie figured out the recipe and now tells people he made them up).
Jim 'N Nick's smokes their pork, chicken, beef and sausage for 20 "long, wonderfully delicious hours" (their words). The Foodie's pick is the "Double Decker" sandwich [pictured, right]. Pulled Pork and Beef Brisket are piled high on a fresh roll, topped with crispy cole slaw and slathered with their hot sauce. (As I side I suggest either the creamy mac & cheese [pictured] or the dark and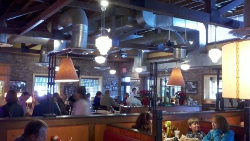 smoky baked beans.) Of course, purists will want to get the Original Pulled Pork sandwich plus the slaw, sauce…"Memphis Style"–you know the drill…, and that is NOT a bad thing. Two types of ribs are available, the Spare Ribs (a moist, full cut) and the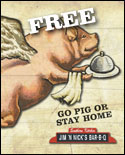 Baby Back Ribs (the "curled" end of the Spare Rib rack has been removed). I lean toward the Baby Backs, but the Spare Ribs (also called "St. Louis Cut") are very good. Can't decide? Get the Rib & Meat Combo or, if you don't need to stand upright for the next few hours, The Pitmaster's Plate (3 ribs, your choice of 3 meats and two sides). The Bar-B-Q Chicken is also delicious, served as a 1/4 portion with 1 or 2 sides, or a 1/2 portion with two sides. The skin is firm and has a nice "snap" as you break through to the tender, hickory-flavored meat.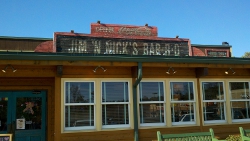 Jim 'N Nick's also serves hamburgers, steaks, catfish and all the standard stuff for people who deem themselves too dainty for smoked meats. Why bother? Get what they do best–you'll be glad you did. They are on a pad site at a shopping center at 5153 Jimmy Lee Smith Parkway in Hiram. Call for specific directions at (770) 439-2662. Click here to see the Hiram menu. (L., D., Bar) Price range: Moderate.