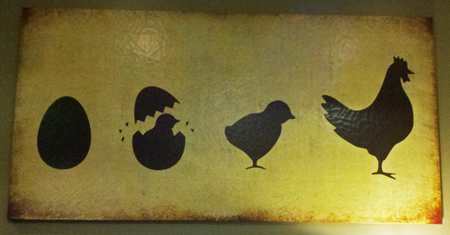 The somewhat upscale yet very reasonably priced Chicken and the Egg is sort of a cross between a(Muse.), Lupo di Mare and Blue Coast (if you're not from Rehoboth Beach/Bethany Beach areas, this will mean nothing). The place is very much open plan with high ceilings, farm tables, rustic wooden floors, and austere wall decorations consisting mostly of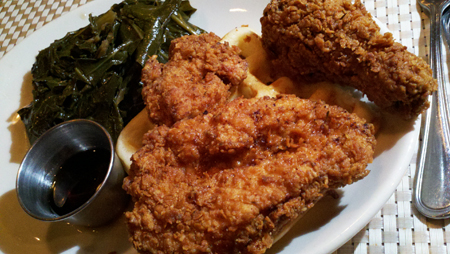 painted signs touting sustainability, the environment, farm-to-table, etc., etc. The whole F2T movement has morphed into a restaurant concept. Some live the concept, some don't. From our one visit, it appears that owner Marc Taft and Exec. Chef Joe Ramaglia do their best to stick with what they choose to call "modern farmstead fare."
Marietta resident Taft certainly comes with credentials. His 27 year career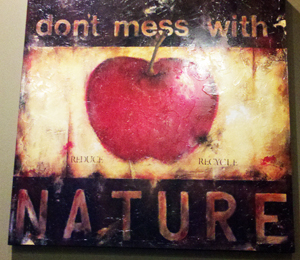 includes the Watergate Hotel in D.C., and Palomar and Pacci in downtown Atlanta. He imported Ramaglia from Pacci, after Joe served a short stint in Washington, D.C. with John Critchley at Urbana. Seems like Marc and Joe make a perfect pair.
It's all about Southern comfort food at Chicken and the Egg. The app list makes it very hard not to order more than one: Pimento Cheese, Fried Green Tomatoes (!), Crispy Pork Belly and Fried Chicken Livers are just a few of the unusual Southern staples on small plates. I have to tell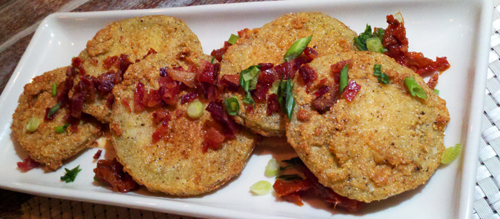 you that the soup menu includes the standard soup du jour, but they call it Soup o' Doo Da' Day. Ya' gotta love it.
Shining stars on the salad menu include a tasty Beet Salad (all the rage nowadays) sprinkled with
snow-white chevre and a delightful Spiced Maple Pear salad with a maple/dijon vinaigrette.
The mains menu reads like a page out of Gone With The Wind (well, maybe the cookbook appendix). Sunday Fried Chicken + Waffle, Molasses Rubbed Pork Tenderloin, BBQ Meatloaf and Country Fried Steak share the same real estate with Salmon nested on Brussels Sprouts, Jager Schnitzel (with German Potato Salad, yet) and Scallops reclining comfortable in a lake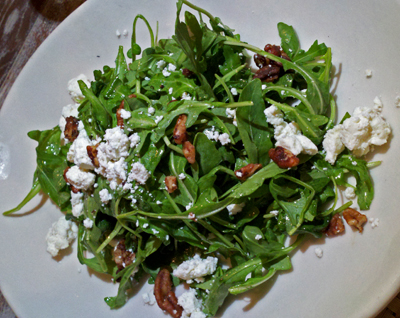 of creamed corn risotto.
Pig + Grits and GA Shrimp + Grits lead off the grits/pasta column and both are delicious with the smoked Gouda-infused grits. Another must-get is the Southern Stroganoff (pork, mushrooms, caramelized onions, peppered bacon gravy (!) and jalapeno pesto over pappardelle. The BLT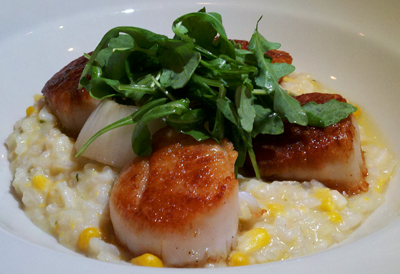 Carbonara is a clever take on the traditional egg-based pasta, but with cream infused with roasted garlic, sweet onion and spinach married to bacon and chicken and perched atop a bed of linguini.
Even the sides make you want to loook out the window for General Grant. Mac 'n' Cheese (very tasty), those Smoked Gouda Grits and the best Braised Greens I have ever had. They accompanied my Chix & Waffle, and were still firm, with a wonderful crunch.
Chicken and the Egg has a moderately sized bar, and a very open and airy look. The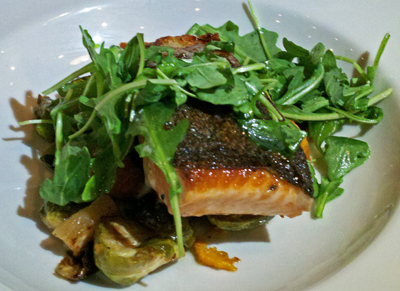 large entry area is inviting, and our server (Steven) was a trip. When I ordered a Stella Artois, he went into his best Marlon Brando, crying "Stella" for all to hear. I swear Kim Hunter heard him.
Chicken and the Egg is at 800 Whitlock Ave., in a strip center in Marietta. If you are in the area, don't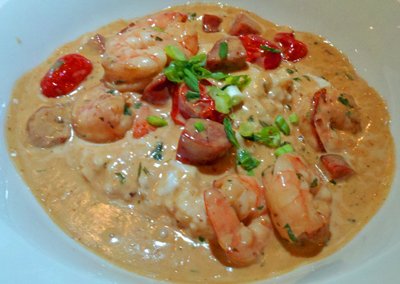 miss this place. Hours are Mon.-Thurs. 5-9, Fri.-Sat. 5-10 and Sun. 5-8. You can even call them at 678-388-8813, Learn more at www.chickandtheegg.com.