At 17, young Bobby Flay just couldn't stay out of trouble. In order to settle down a bit, he landed a job (with the help of his father) in the kitchen at Joe Allen, the iconic eatery-to-the-stars on Restaurant Row. Though his tasks were menial, he showed a particular flair for cooking. The owner recognized the potential and sent Bobby to the French Culinary Institute where he proceeded to earn the "Outstanding Graduate Award" in 1993. One thing led to another, and…well, you know.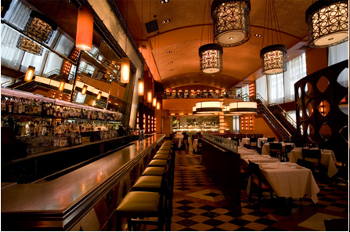 Bar Americain is Chef Flay's ode to American Cuisine, but with a heavy dose of Southwestern flavors and techniques. I especially enjoy lunch there where I must order the New England Clam and Sweet Potato Chowder and the Lobster Club sandwich (note that you cannot get it at dinner). It's loaded with lobster and is accompanied by all sorts of goodies. My first time there I was impressed by the friendliness of the staff (some of these Celebrity Chef places can be very impressed with themselves). At dinner, I like starting with the red pepper crab cake and then segueing smoothly into the Smoked Chicken (North Carolina style with a vinegar/pepper sauce) with spoonbread, OR, the plate of the day, especially if it's Monday and Fried Chicken is on the menu.
Bar Americain is about 10 steps east of 7th Ave. on W. 52nd St., directly across from the side of the Sheraton Towers and Convention Center. Click here for a look at the menu. (L., D., Bar) Price range: Expensive -.