Are you one of the few who might have missed last week's Sip & Bite Show on Delaware 105.9? No need to hang your head in ignominy: Just click below to hear the podcasts. You are forgiven.
Allyson Knight, Donna Serafini and Chef Danio Somoza invite us to 99 Sea Level's Food & Wine Fest taking place Saturday, 11/18.\

Meet talented guitarist and singer Bruce Anthony! Wait 'til you hear his story AND the tunes he sang for us live on the radio!
ON 'SIP & BITE' TWO WEEKS AGO
Debbie Marchese and Carmen Kulac from Rehoboth's Kilwins Candy talk fresh confections (including that caramel!) made fresh in-house. Stock up for the holidays!
Meet Bison Rancher Bobbi Lester of Sussex' own Colvine Bison Farms. She explains why bison meat is a healthy alternative, and talks about how they handle these huge and aggressive beasts.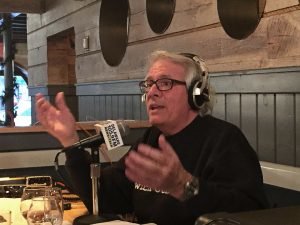 Feast your ears on Sip & Bite with the Rehoboth Foodie every Saturday from 3-5 on Delaware 105.9FM.