Charlie and Mary Rehpelz opened Charlie's Seafood in 1946 (gadzooks…The Foodie wasn't even a Foodlet back then!). Their grandchildren carry on the tradition to this day, keeping Charlie's Seafood a fixture in the Virginia Beach, VA area. They must be doing something right. Starters must always include their signature She Crab Soup, a creamy white concoction available by the cup, bowl, pint, quart and 55-gallon drums (just kidding…I think…). I also like their Clam Chowder; not too thick, with lots of nice, tender clams. I like sprinkling oyster crackers over the top and then adding about 40 or 50 dashes of Tabasco.
The star of the show at Charlie's is fried seafood. They do it well, and the result is crispy, not-at-all-greasy morsels of marine goodies. One of our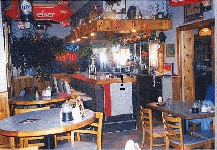 favorites is the Fried Oysters. They are rather small, but they give you a lot. This is a good thing, as the all-important breading-to-oyster ratio remains skewed deliciously toward the breading side. The Fried Flounder sandwich sports thin, flaky white pieces of Flounder that spill over the side of the roll. I like to top it with their particularly tasty cole slaw, a few pickle chips and some of that Tabasco.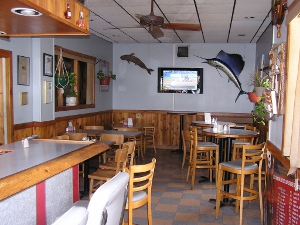 You can get a little bit of everything on the Fried Seafood Platter, featuring scallops, shrimp. fish, a crabcake and those great oysters. If the season is right, you also can't go wrong with the Fried Softshells. I love 'em as a sandwich with the slaw.
The Rehpelz' are friendly and will make you feel like family. If you go, tell Tricia that The Rehoboth Foodie says "hi." She'll know.
Drive north from Virginia Beach "proper" on Pacific Ave. It will become Shore Drive. Just before you get to the Lesner bridge, Charlie's on on the left at 3139 Shore Drive. If you are coming south from the Bay Bridge-Tunnel on Shore Drive, they are on the right just a few blocks past the Lesner Bridge. Their hours vary in the off-season: (757) 481- 9863 (L., D., Bar) Click here for a look at their menu. Price range: Moderate -.