Of all the challenges that come with owning a restaurant (not to mention a hotel on top of it (quite literally), the one that most vexes Brick Hotel owners Lynn & Ed Lester is the local perception that the restaurant is a stodgy, fine-dining destination. Well, to be fair, when they first opened on Return Day '08, chefs Joe Sapienza and Gary Papp did stamp their own brand of hoity toity on the historic spot. One of the first diners, Governor Jack Markell, enjoyed all sorts of high-ticket goodies. But times change. Joe and Gary moved on, and Lynn is trying to let people know that the Brick is family-friendly and not at all stuck up.
We just finished our second visit to the Brick after the former chef's exit and the entrance of Mark Buchanan (formerly of the D.C. area). As much as we wanted to love this place as much as we did on our last few visits, there were both high and low points on each visit. I will start by saying that the service was close to perfect. It always is at the Brick; even in the bar. On our most recent visit with a party of 6, our server Lisa made the night delightful. On a high note, so did the appetizers. The Cheesy Crab Dip borders on perfect. It is rich and buttery, and the little pretzel bread bites work perfectly. Though the Buffalo Wings were crispy, the sauce touted as their hottest was actually quite mild. On a high note (it's a roller coaster ride, so strap yourself in), the Calamari was delicious. Though it was fairly light in color, it was perfectly salted and delightfully crunchy. An unusual (but very tasty) sweet relish sauce accompanied.

We also ordered the Tavern Fries, a signature dish at the Brick, and they were perfect, as usual.

Sadly, there were a few stumbles when the entrees arrived. And full credit goes to our server for holding things together. One of my newest and most favorite Foodettes, a local radio personality, ordered the "Fish of the Moment" (love the name). At that moment it was Rockfish with Herb Couscous and Winter Squash. The fish was there in spirit, but it lacked in taste – perhaps it needed more spice. When Chef Mark Buchanan dropped by the table, she had the moxie (this lady is NOT short on moxie!) to tell him what she thought. I was again surprised at the lack of any reaction.

Another high note: The Surf 'n' Turf Burger topped with Crabmeat, Old Bay and Cheddar was encased in a roll that was fresh and soft, subserviently cupping the juicy beef and its cheesy/crabby crown. Each bite contained the perfect ratio of ingredients. The fries were hot, dark and crispy in the boardwalk style. I had ordered that before, and it's just as good now as it ever was. Another one of my newly anointed Foodettes (a mucky-muck with Southern Delaware Tourism) ordered the Braised Short Ribs with squash and mashers subbed for baked potato and broccoli. Short ribs (actually, any kind of ribs) start out very tough. It's the nature of the meat. That's why they are cooked "low and slow" to make them succulent. My Foodette was disappointed that one of the two well-proportioned ribs was so tough as to be inedible. Apparently it simply had not been cooked long enough to make it tender as it should have been, especially for $21. She left it on the plate.

The Brick Burger1/7

Buffalo wings.2/7

Star of the show: The cheezy pretzel app!3/7

Beef ribs4/7

Shrimp ravioli5/7

The veal chop with prosciutto6/7

Tavern Fries7/7
A high note: The Veal Chop stuffed with prosciutto and sharp provolone with fingelings and glazed carrots. It was perfect. If I had one gripe, I wish the chef had trimmed more of the fat off the meat. It was completely covered with the melted cheese, it was hard to tell how much fat your were putting into your mouth. This extra courtesy from the kitchen would not have affected the moistness of the meat, given the fact that it was covered in the creamy melted cheese. But it did make it annoying to eat.

Last, and sadly not least, the Shrimp and Polenta Ravioli. The Shrimp Blush Sauce was undercooked; so much so as to be floury. As a result, any taste that might have been was overshadowed by the flour. The ravioli themselves were very mild. Not bad, not good. Just … mild. That's the best I could get out of the person who ordered them.

I hate writing critical reviews, especially when it's about a place for which I had such high expectations. But I try hard to be fair while telling it like it is, though I know I've probably lost a friend because of this article. But our disappointment over the entrees was palpable. I believe the Brick can overcome these problems. These people are professionals. It's going to take some work, but I look forward to that day. It might require a change in chef. I don't know.

On a brighter side, Lynn and Ed Lester have been successful in making the circa 1836 hotel into a warm and welcoming spot with moderately priced comfort food. The restaurant is stylishly cordial and family friendly.
By the way, the lunch menu is basically the dinner menu with more sandwiches, and minus the "Big Plates."  I have not been there for lunch since the chef changeover, but I will leave the lunch portion of my previous article for you to use as a guide. It is a popular daytime spot and I suspect you will not be disappointed. You can still get the soups and salads — but the lunchy value-added is their legendary Fried Green Tomatoes, presented with a crabmeat and goat cheese- studded salad and Earl Grey-infused honey. I hope it's still as good as ever.
Other recommended lunchables at the Brick include the overstuffed Reuben on rye with peppercorn beef, the Roasted Turkey on Sourdough (with sweet relish, yet), and the triple-tiered BLT on Texas Toast.
The bar is cozy, loaded with maple, glowing sconces and inviting hightops that just beg you to order one of their specialty martinis, none the least of which the Moosetini, the Dirty Girl Scout and the Hava Mahaffey. I'll let you explore those on your own.
The Brick Burger1/7

Buffalo wings.2/7

Star of the show: The cheezy pretzel app!3/7

Beef ribs4/7

Shrimp ravioli5/7

The veal chop with prosciutto6/7

Tavern Fries7/7
The Brick Hotel is at 18 The Circle in Georgetown, Delaware, sandwiched between the Citizens Bank and W. Market Street. There's tons of parking in the back, and a covered driveway and lobby entrance on the left side of the building to keep you dry. The trappings are Colonial to a fault, with inviting fireplaces, overstuffed chairs and indoor trees that twinkle well into March. Two huge front porches span the length of the building and are preferred real estate for holidays, warm summer evenings and, of course, Sussex' traditional Return Day celebration.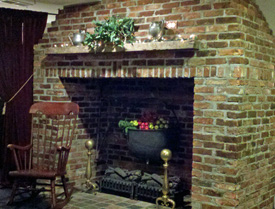 I'm sure that at least some of the quality service can be attributed to the fact that the Lesters are on the premises pretty much all the time (except during our last visit, unfortunately). Everybody from Garth, the effervescently snarky maître d', to Brooklyn Jo (all 4.75 feet of her), to all our other servers — these people seem to be genuinely proud of the Brick and its menu. Somewhere there's a disconnect and I hope Lynn can resolve it.
If you have had different experiences, please tell us about them below.
There is often live entertainment in the bar, and the Sunday Breakfast Buffet is the place to see and be seen. I strongly suggest reservations in-season. Check out the menus by clicking here. Always call in the off season (302) 856-1836. (B. (Sundays), L., D., Bar). Price range: Moderate +.
Off-season Specials & Hours
Specials & Moods change quickly. Always call a restaurant first.
pp = per person.
BOGO = buy one, get one.
Bloody = bloody mary.
domestics = American-made beers (e.g., Bud).
imports = foreign beers (e.g., Heineken).
Rails = non call-brand alcohol.
Prix Fixe = one set price.
Mains = entrees.
Margs = margaritas.
Chix = chicken.
AYCE = all you can eat.
Lite = Miller Lite
drafts = draught beer.
Early Birds = arrive before a certain time.
Apps = Appetizers.
bottles = beer in a bottle.
à la carte = order off the menu (no prix fixe).
crafts = micro/artisanal brews (e.g., Old Leghumper Lager)
Sunday
Open 11-4
No dinner on Sundays.
Tuesday
Open 11-9
Happy Hour 3-6: $3 domestic beers, $4 house wines, $5 craft draft beers, $5 Rail Drinks, $1 off wines by the glass, $2 off Brick specialty cocktails & specialty Martinis, $5 appetizers
4-5:30 $10 early dinners special menu and smaller portions
$10 Tuesday! 1/2lb of shrimp or chicken croquette served with salad
Wednesday
Open 11-9
Happy Hour 3-6: $3 domestic beers, $4 house wines, $5 craft draft beers, $5 Rail Drinks, $1 off wines by the glass, $2 off Brick specialty cocktails & specialty Martinis, $5 appetizers
4-5:30 $10 early dinners special menu and smaller portions
3 course price fixe $24 1/2 price bottles of wine
Thursday
Open 11-9
Happy Hour 3-6: $3 domestic beers, $4 house wines, $5 craft draft beers, $5 Rail Drinks, $1 off wines by the glass, $2 off Brick specialty cocktails & specialty Martinis, $5 appetizers
4-5:30 $10 early dinners special menu and smaller portions
Crab cake platter $13
Friday
Open 11-9
Happy Hour 3-6:$3 domestic beers, $4 house wines, $5 craft draft beers, $5 Rail Drinks, $1 off wines by the glass, $2 off Brick specialty cocktails & specialty Martinis $5 appetizers
4-5:30 $10 early dinners special menu and smaller portions
Prime rib night $19.99
Tavern open til 11
Saturday
Open 11-9
Chefs feature $19.99
Happy Hour 2-5: $3 domestic beers, $4 house wines, $5 craft draft beers, $5 Rail Drinks, $1 off wines by the glass, $2 off Brick specialty cocktails & specialty Martinis, $5 appetizers
Tavern open til 11