We are happy to report that after an 11-month closure, Carnegie Deli has reopened as of February, 2016! Bring on that open-faced reuben, the bright green half-dones and the elbow-to-elbow fressers who know and appreciate the difference.

I feel sad for people who wax poetic about Stage Deli, Star Deli, and even Katz's Deli (of When Harry Met Sally fame). I've been to them all. The dogs are indeed perfect at Katz's (but their pastrami's too fatty), and the others each have their high and low points, but the most consistent of them all is Carnegie Deli on 7th Ave. at 55th.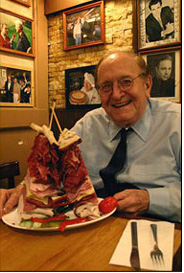 I had the distinct pleasure of being acquainted with the late Milton Parker [pictured, left], who bought the restaurant in 1976 (it's been there since 1937). I'll never forget eating lunch with him and his son-in-law Sandy Levine (now the proprietor) during the Grand Opening of the Carnegie in the Mirage Hotel/Casino in Las Vegas. We were talking about entrepreneurism, owning businesses and the like, and he said to me, "Bubula," (well, not really. He said "Bob," but I heard "Bubula"), "the only difference between you and me is that my customers put my product in their mouths." That obsessive focus on quality and taste even extends to the Las Vegas installation, where they insist on flying-in the corned beef, pastrami and cheesecakes from New York almost daily.
Years ago I used to have a cute little coffee-table book called "Never Eat Anything Bigger Than Your Head." Nowhere is this rule more called into question than when ordering the Reuben. A couple of slices of rye serve as the foundation for slightly-more-than-a-pound of corned beef (you can also get corned beef/pastrami combo, just pastrami, or turkey (yuck), topped with sauerkraut and enough Swiss Cheese to feed the 5th regiment. It is placed in a Salamander (a restaurant-style broiler) until the cheese is golden brown and has melted slightly down into the strata of 'kraut and meat. I never know if I want to slather it in Russian Dressing or grainy Deli Mustard, so I get both (much to the annoyance of the perpetually annoyed waitrons). The corned beef and the pastrami (they brine, spice and prepare their own) literally melt in your mouth (THIN SLICES are the secret!). Their signature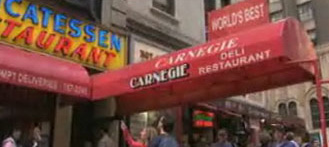 Cheesecake (get it with the cherry topping) is cold, creamy and as tall as the Chrysler building (at least it looks like that after finishing the Reuben). Their Matzoh Ball Soup is delicious, and I get it every time, though I will say I have had better at one other place: Celebrity Deli (now long gone) on Nebel Street in Rockville, MD. Owner Chuck Rossler was a scream and is now in his bunny slippers in Florida.
You sit school-cafeteria style at long tables, elbow-to-elbow with other fressers, or fresser wannabes from Kansas, sharing stainless-steel bowls of pickles (I grab all the half-dones for myself). You need to be ready to order when you are called on, not unlike the "Soup Nazi" guy of Seinfeld fame. The breakfasts are delicious and huge, and it's hard to pass by the pastries when staggering out of the place (rugelach extraordinaire).
It's the first place I go after arriving in The Big Apple and it sets the tone for the rest of my time there. There's always a line at dinnertime, so I suggest trying to visit in off-hours. (B., L., Dinner and Late Night). Click here to look at their gigantic menu. Price range: Moderate +.