Experienced Rehoboth restaurateurs Chris Bisaha and Joe Baker have created Henlopen City Oyster House with a bright, friendly atmosphere. They say that 75% of their ingredients are procured from local farmers and purveyors. (I've been asked not to elaborate on their previous culinary escapades here in Rehoboth, but suffice it to say that you've probably been to at least one of their former eateries.)
UPDATE: The previous article in this space made note of how noisy the main room is at Henlopen Oyster House. The Foodie (an acoustics expert in his former life) even offered to help. Chris and Joe have since made some moves toward quieting things down with the use of acoustic panels. It's a good start, but if the comments below are to be believed, a little more acoustical work is in order.
ANOTHER UPDATE: Went to HCOH for lunch the other day. Got the Lobster Roll and fries [pictured, below right]. I want to tell you that the fries were good -- dark and peanutty like Thrashers, but shoestrings. The Lobster Roll was quite good, loaded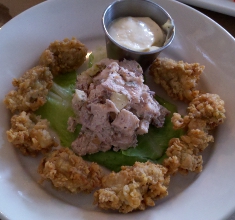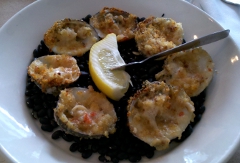 with lobster meat, on a nice buttered/grilled roll. More about it below in the update. I really tried to find something to complain about, but I couldn't.
We now return you to our regular programming:
On one of our recent visits we started with the Clams Casino [pictured, left]. Shallots, peppers, bacon and parmesan make the (rather small) clams quite delicious. But they are well worth the $8 price tag.
I also ordered the Oyster Stew. Though it was generously endowed with oysters, the broth was thin and very mild. I prefer oyster stew a bit more aggressively spiced, with a little more onion in a broth at least thick enough to keep all of the ingredients from immediately falling to the bottom of the bowl.
The fried Calamari had a surprising twist: diced pickles! Scary as that may sound, it really worked. The dish was crispy and..."pickley" (in a good way). I do have one gripe, however. The Calamari should have either been drained a bit longer after leaving the fryer, or served on something absorbent like a paper towel or a napkin. Why have an unattractive pool of grease underneath such a tasty dish?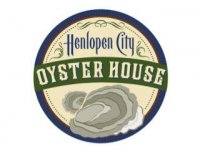 One contender for "star of the show" is the Fried Oysters [pictured, above left]. We had them as an appetizer. They were accompanied by a totally unexpected (but traditional in the south) chicken salad. The whole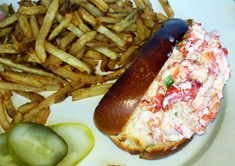 combination worked nicely. Who wooda thought? The other contender is the fried shrimp. One of my trusted Foodettes (we'll call him "Jack") had the Shrimp Po'Boy sandwich with brightly spiced cabbage, pickled onions and tomatoes. "Fried" should not mean "greasy" (if it's done properly), and neither the shrimp nor the oysters were greasy in the least. The Po'Boy also comes in oyster, clam and scallop versions.
On a separate visit, one of our party ordered the Roasted Beet Salad with crunchy sunflower seeds and feta. The surprise inside was pickled radish! Very interesting. He pronounced it "really good" (he's not very creative under pressure). A recent addition to the menu (this should really be an "update," but there are already enough of those) is the lobster Reuben [pictured, below left]. Served panini (or at least grilled) style, the bread is buttery and crunchy. The lobster salad joins cole slaw and swiss [see closeup below right] and is accompanied by a nice little salad (optional) and some pickled onions. Nice touch. It is quite tasty and guaranteed to fill you up.
The Alaskan Silverbrite Salmon (delicately seared without drying it out, surrounded by crunchy bok choy and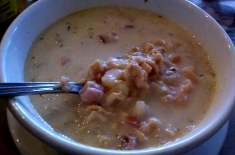 sugarsnaps, coated in an ever-so-slightly-sweet soy ginger glaze) was missing from the most recent menu, but that might be a seasonal thing so I left the descriptions here just in case. The Soft Shell Crabs remain, however, and they were quite tasty with a roasted corn and pepper salad.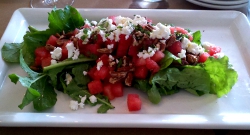 At this writing, the salmon has been replaced by Fried Scallops. The bacon caramel sauce (!) makes for a perfect topping. It's late 2011, and watermelon is still in season. Go quickly and order the Watermelon & Arugula salad [pictured, left] with chunky pecans, feta, mint and a very interesting truffle honey vinaigrette. You will not be disappointed.
OK, I'm a sucker for a New England Lobster Roll. It's a common misconception here in Rehoboth Beach that lobster salad in a sub roll (and not the proper "New England" style buttered and grilled split-top roll) is, in fact, an official "New England Lobster Roll." In a previous incarnation of this article, I complained that Henlopen City Oyster House also used a sub roll. Well, see the "Update" below and the photo above. The lobster salad at Henlopen City Oyster House is loaded with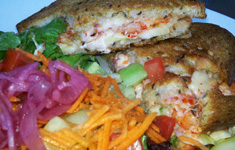 lobster meat, has just enough "wetness" to hold it together, and is mildly spiced so the sweetness of the delectible arachnid can shine through.
YET ANOTHER UPDATE: I can't believe it. The guys have replaced the admittedly OK baguette that used to sandwich the lobster salad with an actual split-top roll [see above right for a recent photo]. It's toasted, just as they do in New England, and cradles the lobster perfectly. With less bread, you can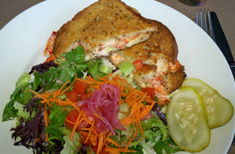 really enjoy the tasty lobster without having to tunnel through all that dough. The Foodie wonders if perhaps they read the previous commentary complaining about that roll...but it really doesn't matter. Henlopen City Oyster House is better for it. By the way, The Clam Chowder [pictured, above left] -- the kicker is the smoked bacon -- has lots of body and is packed with goodies, I'll get the Chowder any day.
Now back to the program already in progress:
The Blackened Rockfish has been recently replaced with the Blackened Grouper. It is equally tasty with a pleasing crunch on the outside.
The quintessential comfort food, of course, is Lobster Mac & Cheese. This dish may very well be the star of the show on the entree side of things. They use gouda, parmesan and a splash of cognac over shells (The Foodie thought he was the only one who did that). Scallions and buttery breadcrumbs crown this monument to creamy success. There is enough lobster in there to easily justify the $24 ticket.
The bathrooms got an extra .5 on the ratings because each is equipped with a Dyson Air Blade hand dryer. Far from being those annoying hot air things that take forever, this machine qualifies as a 5-Ticket Ride at Disney World. The Foodie's first encounter with these jet-engine hand dryers was in the lobby restrooms at the Sheraton Towers/Convention Center in midtown Manhattan. Now they're now popping up all over the place. Not impressed? Try it after a couple of martinis....
Henlopen City Oyster House is on Wilmington Ave. on the south side, just down from Second St. On the bar side, there's a little built-in raw bar featuring a long list of oysters from all over the place, including Hog Island, VA, Prince Edward Island in Canada, and Wellfleet, Massachusetts. This tiny area has become a hot ticket in Rehoboth Beach. If you want to see and be seen, get there early!
The "dining" side of the facility is rather stark with white walls, high ceilings and some interesting hanging artwork. The tables are close together, and it's a bit crowded, but it is a busy fish house, and it is the beach, so chill out, smile, and rub elbows with the tourons and such. You will find co-owner Chris Bisaha moving deftly between the tables making sure everyone's happy, and his partner Joe Baker oversees the kitchen along with executive chef Bill Clifton. Milford-born Clifton picked up most of his techniques in Chicago.
The menu varies with the season, so some of the things I mention here might not be available. Be sure to call for their hours as the summer wanes (302) 260-9193. In the meantime, they are still open at 12 for lunch (off-season only!) and 5 for dinner 7 days as of this fall update. Click here for a look at their latest menu. (L., D., Bar). Price range: Moderate +..