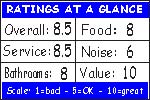 My first experience with raw oysters was part of a "progressive birthday party" (code for: "Stumbling Up Rehoboth Ave., Eating and Drinking and Muttering 'Happy Birthday To You'"). Fins was one of the stops along the way. We had already visited three other places, so my inhibitions (and liver function) were decidedly compromised. Our generous host ordered raw oysters for all, and they were delicious. Fresh, like seawater with no fishy aftertaste, these strange little sliders quickly became a favorite, especially kicked up with a sprinkle of Tabasco. Fins prides itself on their selection (I counted 34) including such varieties as Buzzard Bay, Rome Point, Lady Chatterly and Tatamagouche. The selection varies regularly. I've dined at Fins many times, and so far have not had a bad experience. I love to sit by the upstairs front windows and peer down onto Rehoboth Ave. Please share your own experiences by posting a comment below.

My favorite appetizer is the hot and crispy Shrimp and Crawfish Spring Rolls, served with a sweet Asian-style dip. Other favorites include Seafood Quesadillas and the cheesy Crab Dip, both with generous portions of seafood. Two salads that stand out are the Chopped Salad (loaded with cheese, cucumbers, corn, bacon, tomatoes...you get the idea) and the Fins House Salad (crispy greens with pine nuts, cranberries, gorgonzola and pine nuts). It's not quite as big as the Chopped Salad, but has a sweet/nutty taste all its own and works great with one of the huge sandwiches I am about to describe. Check out the other offerings (somebody, please, order the Tempura Battered Scallops and tell us about it below. They sound good. I might even beat you to it).

I love sandwiches. And one for which I perpetually pine is an authentic New England Lobster Roll, and Fins comes close to satisfying that craving. This overstuffed lobster salad sub lacks the buttered and grilled "Boston" roll that you'd get at a waterside diner in Maine or at Boston's Faneuil Hall, but the fresh sub roll is an OK stand-in. And Fins does not skimp on the lobster. Speaking of sandwiches, my dining companion-of-choice loves the Peacemaker. It's a fried oyster Po'Boy (lettuce, tomato and a spicy cajun tartar sauce on a crispy roll)...but add bacon. Now what could POSSIBLY be wrong with that? The combination of the crispy oysters with the salty bacon is hard to beat. The Crab Cake Sandwich and the Clam Roll (fried clams done up like the Lobster Roll) have also been met with drooling approval.

If you actually make it to the entrees, you'll see all the standard fish house goodies. The Peacemaker's fried oysters also make a nice Fried Oyster Platter. Same thing with the crab cakes. I've enjoyed the fish and chips (crunchy beer batter w/fries and slaw) and also the fried Soft Shells. They're seasonal, but when they have 'em, get 'em. I've run out of adjectives to describe a well-fried dish, so please just order them and tell me what you think.

UPDATE: During last night's visit to Fins, one member of our party had the Fins Cioppino (a fish stew loaded with clams, mussels, shrimp, scallops, crabmeat and fresh fish surrounded by a sea of saffron white wine garlic tomato broth. After a detailed interrogation (The Foodie can be a bit annoying at the table) I couldn't get him to say anything bad about it. The only things left on the plate were the empty shells of the mussels.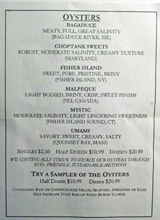 Another at the table had the shrimp and grits. He pronounced the grits too creamy and buttery, overwhelming the otherwise nicely spiced shrimp. I had a spoonful and I agree. Though Fins' Shrimp & Grits is certainly OK, there are better in town.
ANOTHER UPDATE TO REPLACE A DELETED ONE: Regular visitors might remember a negative update I posted early in the summer regarding a rude and combative waitress with whom we had the unfortunate opportunity to cross paths. She has since moved herself and the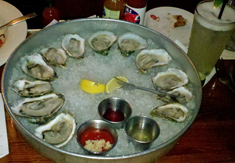 accompanying chip on her shoulder to another local restaurant. I've already encountered her there (quite by surprise), and I've no doubt that she'll continue to annoy their customers with her intimidating attitude. In celebration of her departure from Fins, I have had several meals there recently, and want to join other oyster lovers in telling you that their oysters on the half shell continue to be great.
Most recently, I ordered the Sampler Platter [pictured, left], and have loved the fresh, seawater taste of the well-shucked little filter-feeders. The Sampler even comes with an instruction manual [pictured, right] so you can keep track of the varieties (clockwise, starting at the cocktail sauce).
Enjoy them with one of Andrew's perfect Bloody Marys [pictured, below right], complete with an Old Bay-dusted rim, their signature vegetable-infused vodka, a crunchy string bean, a strip of asparagus (if he takes a liking to you) and several massive olives. Pass the Tabasco, please. It's a meal in itself, and it's good for ya' too!
By the way, the ratings have been modified to reflect the improvement in service and the consistently tasty food.
We now return you to our regularly scheduled program.
Fins is open seven days, and is almost always busy even in the off-season. So be sure to give them a call to see what's going on (302) 226-FINS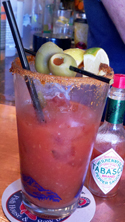 (3467). Their website is cleverly laid out and fun to peruse, so Click Here to check out their menu and get more info. They don't take reservations, but it's fun to belly-up to the busy and noisy bar and sip a bit while you wait. You're at the beach! Plop, relax and order some raw oysters, and don't forget the Tabasco. (L. (limited--call), D., Bar) Price Range: Moderate +.