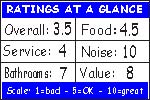 Preshy's is a difficult place to review. I've heard mixed opinions from many people, so I dined there several times to be sure to provide you with the most accurate information. On my fifth visit I was joined by a party of ten, so I got a good look at (and taste of) a number of dishes.
Say what you will, but this is a restaurant where you stay with the basics. Fortunately that isn't hard, because most of what they serve is limited to the basics. A restaurant should obviously concentrate on what they do best. The prices are quite low, and that can be good or bad depending on what you're looking for.
The main courses come with soup or salad. Observation of other tables convinced me to try the soup, as the house salad was ridiculously small (it's only $2.95 a la carte, anyway). The soup du jour was lentil. It was simple, straightforward and obviously homemade with fresh ingredients. I would have preferred it a little more boldly spiced, but I guess that's why they put salt and pepper on the table. I also had the Caprese salad. It was cool, crisp and actually pretty generous. The dressing bordered on tasteless.
The people at our table who visited there most often all ordered the Veal Marsala. I ordered the Chicken Parmesan. I regretted not ordering the veal. The chicken was thinly pounded, but I prefer a parm dish lightly breaded and a little crunchy. The red sauce was ordinary, and there wasn't a lot of cheese topping. And there was an undefinable taste (rare for me) that was not pleasant. The Veal Marsala, on the other hand, was quite delicious. The brown sauce was savory and rich, and the veal, though maybe a tad overdone, was still tender.
Others at the table got the Penne Puttanesca (Puttanesca = a dish, usually pasta, topped with a spicy sauce containing capers, tomatoes, anchovies, garlic and sometimes olives). Sadly, it wasn't as tangy and spicy as I expected it to be. The remaining diners had the spaghetti Bolognese (Bolognese = a sauce made with meat). It was a too salty to clearly identify the meats in the sauce (usually it's beef, maybe some veal and perhaps some sausage or chopped and fried pancetta (Italian bacon).
I believe that one evaluates a restaurant on price and what they claim to do best. Preshy's dishes up basic Italian at a surprisingly low price (none of their entrees are over $14). Roberto, the owner, was our waiter. If he doesn't approve of some combination that you order, he will make that very clear to you. I find that amusing (many find it annoying--see below), and dealing with him during the ordering process was interesting to say the least. It was the high point of the night. Take that as you wish.
UPDATE: I continue to get comments and emails about Roberto's attitude with diners who have the nerve to ask for unreasonable things like a different table, a napkin, or (God forbid) dressing on the side. We went back recently just to refresh. I won't bore you with the details, but it all comes down to this: Preshy's food is NOT good enough for him to behave in that manner. I hope I don't have to go back any time soon.
Now back to our regular programming:
Again, I've had so many people tell me different things about Preshy's. Have you been there? What did you think? I personally like larger portions, a greater variety, and more aggressive spicing. But for the price, Preshy's fills the bill. You get what you pay for. Please post your thoughts below.
Another little surprise: Preshy's opens for breakfast (!) at 10:30 am (9am on weekends). The entrees are pretty standard breakfast stuff, but I am intrigued by the French toast with a creamy orange sauce and also the gorgonzola omelet. Again, please grace us with your findings if you've had breakfast there. Lunches are similar to the dinner menu, and they add some "lunchy" sandwich offerings such as BLT, Turkey club, etc. The lunch prices (and portions) are reduced to about half of that of dinner. Note that they only serve beer and wine. No hard stuff. The wine prices are, in fact, quite fair.
Preshy's is at #14 Midway Shopping Center (to the right of the theaters), directly across from the Midway Outlets, just north of Rehoboth Beach proper. Check to make sure they're open in the off-season. (302) 645-8300. Preshy's has no online menu available. (B., L., D.) Price Range, Inexpensive -.