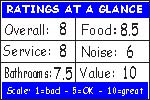 I love pizza, and we all know that there are all kinds of styles and tastes, all different enough that a person can have several "favorites." And that brings us to Lombardi's Trattoria in Ocean City, Maryland.

Years ago, my family had a place in OC at 91st. St., across the highway from Lombardi's. My parents used to scamper across Coastal Highway for pizza carryout (they'd probably be run over by a HumVee nowadays). Still the same owners, some of the same waitresses (I swear) and the same food. Is this fine dining? No. It's noisy, brightly lit with beer neons, with the same knotty pine booths that have been there forever. This is a beachy joint with consistent food, service and frenetic activity. Starting around mid-November, much of that activity is on Tuesday nights, in honor of "half-price pizza night." Get there early! Hurricanes, nor'easters and whatever else the Atlantic coast can come up with cannot stop the locals (and brave part-timers) who know that Lombardi's pizza is worth it. Waiting at Lombardi's can be fun: The bar is huge, and a couple of cold beers can make the time fly by. You're at the beach! Slow down and enjoy the rabble.

Stay with the basics at Lombardi's. And one of the basics is their pizza. I've rambled-on in other reviews about New York pizza, comparing it to other local pizza places. If I had to commit myself, I would say that Lombardi's pizza is most like the ubiquitous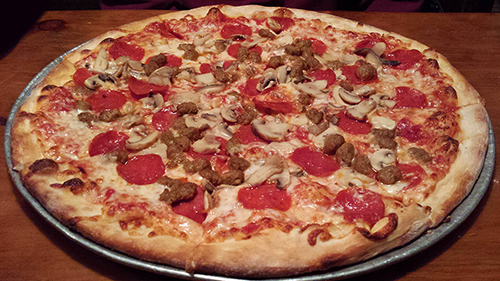 "Ray's" Pizza in New York City. A yeasty, substantial crust with a particularly elastic "pull" to it, and flavorful cheese that sets to a firm mouth-feel as it cools (I swear there's a little cheddar in there) and generous toppings from pepperoni to onions, from black olives, to Virginia Ham (!), Italian sausage and everything in between. (I even love the huge, beat-up aluminum pizza pans.) My favorite is pepperoni and sausage, and sometimes black olives and mushrooms. But I know how you are, and you like it how you like it, and they're all good. Even the anchovies.

The pasta dishes are huge and individually prepared. The red sauce is not too sweet, and has a depth of flavor that belies the "pizza 'n' beer" ambiance. My dentist friend from Bethany Beach loves the spaghetti and meatballs (big flavorful meatballs, infused with sauce, and happy to yield to light pressure from the side of a fork). The lasagna is firm and tasty with an almost bolognese-style meat sauce. The parmesan dishes (veal, eggplant, chicken, shrimp...you get the idea) are all consistently good. I like to get the sauce on the side and dole it out as necessary, secretly dipping my buttered Italian bread when nobody's looking. All the usual suspects are represented on the menu, including manicotti, ravioli, etc. The parmesan entrees are also available in sub form in the event you like your dinner portable.

The wine choices are understandably limited, but they are drinkable, established labels that go well with Italian. Of course, they have a ton of domestic bottled beer and the usual imports, including Peroni.

Are you're looking for a little out-of-the-way Italian cucina, where a rotund chef smiles lovingly as he prepares each masterpiece from scratch, as the server dotes on your every whim while flickering candlelight playfully dances across the weathered canvasses of original oil paintings? Well, THIS AIN'T IT. But if you're at the beach and you want to be right in the middle of it all, with the music playing and down-to-earth food and service. Lombardi's is the place to be in Ocean City (and has been for almost 40 years--they must be doing SOMETHING right).

Lombardi's is in the 94th Street Shopping Center, on the west side of the highway. You can't miss it. It's big and red. Check out their hours off-season during the week (410-524-1961). And tell Paolo that "Doc" said hi. Click here for Lombardi's menu. (L., D., Bar) Price Range: Inexpensive.