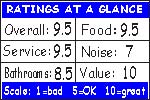 One of the hundreds of online accolades about Grove Market restaurant includes the description, "diamond in the rough." Even a diamond in the rough is still a diamond, and this one doesn't need a bit of polishing. It's just fine the way it is.
Now keep in mind that it's my obligation to be critical and ferret-out things that you might not like about a restaurant. I'm fortunate that most of the places around here are at least OK, but I'm always on the lookout for careless slipups and missteps. So if it was my job to find any substantial fault with the Grove Market, then I did not do my job (I did have one gripe--I'm saving that for later). What I DID do was have one of the most delightful and delicious evenings I've enjoyed in a long time.
The Grove Market was converted from a bait shack (wait 'til you see it) into a restaurant in 1987, and head chef John McDonald joined the crew in '93. He is the very knowledgeable wine critic for the Cape Gazette, and was the proprietor of the long-gone Garden Gourmet restaurant in Rehoboth Beach. It's pretty typical for head chefs to get everything prepped in the afternoon, then hightail it out of there as soon as it gets busy. That is not the case at the Grove Market. We sat down at around 8, and I was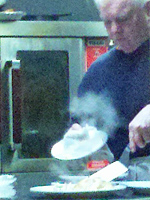 treated to the ideal vantage point from which to marvel at this man putting together dish after dish...after dish. And he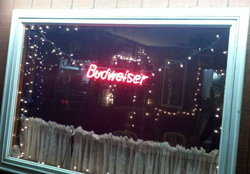 stood over each and every one of them making sure they were right before they were picked up. I knew things were going to be good.
There is no menu. I felt like I was watching the "City Square Soliloquy" from The Music Man ("Mothers of River City! Heed this warning before it's too late!"). Server Patrick was in rare form, and clearly channeling his best Robert Preston as he brought the entire room to attention and began his animated description of the appetizer and dinner selections.
Waving his arms and gesturing with exclamatory vigor, he acted out, in detail, the ingredients and preparation of each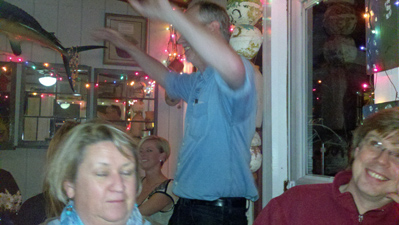 item -- all the while making sure everybody was paying attention. Keep yapping and you'll miss it. There are no do-overs. Leave your real or imagined ADD at home. And be sure to join the wave of applause that often follows his impromptu performance.
On our most recent visit, we had the pleasure of dining with two professional chefs. So I had the benefit of their input as well as my own humble impressions.
We started with the Crab Remick appetizer [pictured, left]. Ridiculously fresh Smith Island crabmeat is served in a good-sized ramekin and baked with a peppery mayo mix into which pieces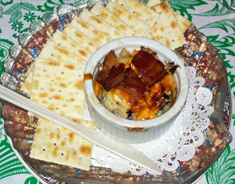 of dark, thick-cut bacon are pressed. It was simply wonderful.
Another don't-miss appetizer is the whole duck livers wrapped in bacon and accompanied by a creamy tart/sweet apple slaw [pictured, right]. The interplay between the crispy/savory umami of the bacon and the...well, livery...taste of the liver made this upscale take on rumaki a total success. It's was almost big enough to serve as a meal.
A dish of steamed clams [pictured, left] was crowned with two crispy and buttery crostini and almost pimiento-soft slices of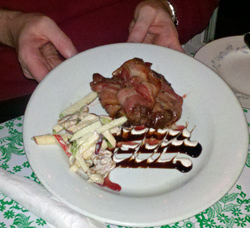 red pepper. It all swam in a shallow lake of a darkly savory sauce. My friend the baker (and creator-of-perfect-cakes-I-don't-know-how-she-does-it) had the smoked fish appetizer [pictured, below right], replete with thin-as-air slices of tuna and smokey chunks of salmon. Crispy and creamy apple slaw, along with a firm, cold lemon wedge played very capable supporting roles.
One of the stars of our main course lineup was the crispy duck breast [pictured, below left]. The tight, darkly sweet skin (a little maple syrup, perhaps?) crackled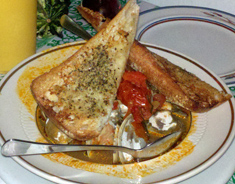 with flavor. This was quite simply one of the most delicious duck dishes I can remember eating. The bottom of the plate shone with a flavorful, yet almost transparent jus. An aromatically fresh and yeasty breadstick was studded with kosher salt and a variety of spices and perched beside the mahogany-hued cuts of meat. I am sorry to tell you that my treasure trove of superlatives contains no words to properly describe this just-about-perfect plate.
I had the Smith Island Crab enchilada [pictured, below right]. More like a burrito than an enchilada, it must have contained a pound of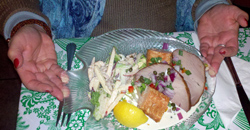 the sweet Maryland crabmeat, and was topped with a cheese that tasted like milky queso fresco, though it had more of a cheddarlike hue. Maybe a mix of cheeses? It was accompanied by a side dish of moist herbed rice (satisfyingly al dente) and a still-crunchy medley of yellow squash, zucchini and strips of red pepper [pictured below the enchilada].
If I had to gripe about one thing, it would be that the seasonings in the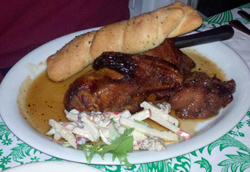 enchilada were unbalanced, with an unpleasant preponderance of cumin in the chili-like sauce in which the crustacean-filled flour tortilla bathed. This is often the case when non-Mexicans make Mexican-style food. It needed a little more chili pepper taste and a slightly sweeter, maybe even tomatoey edge. The excess cumin washed out the taste of the cheese and left little room for the subtlety of the crab. I did,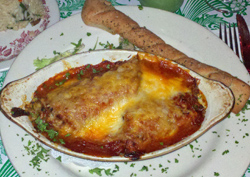 however, eat it all. But next time I'm getting the duck.
That wonderful crabmeat was used to stuff a large flounder filet coated in a rich, almost hollandaisey imperial sauce seared to a golden patina [pictured, below left]. Imagine crab imperial happily nestled in amongst the folds of a perfectly cooked flounder. That crispy fresh vegetable medley camped alongside. Another of those breadsticks made a welcome cameo.
One of my chef friends had the Tuna [pictured, below right]. Seared-off and finished in the oven, the huge steak was perfectly medium/medium rare and moist in the center, but grilled to a delicious crust on the outside. It balanced atop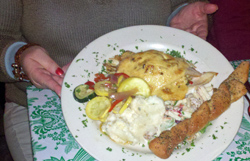 thai noodles. Apple slaw joined wakame (seaweed salad) as a cool portion of pickled ginger lounged beneath a bracing dollop of wasabi. The ubiquitous breadstick du jour provided the perfect dénouement for this platter that looked as good as it tasted.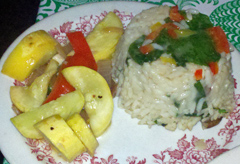 The Grove Market is tiny. About 8-9 tables. So getting a reservation is an adventure. You call their machine and tell them when you are available. Co-owner Leslie Lunga may -- or may not -- call you back. If she does, you're in. If not, you call back and try again. Reservations run about 2 weeks out. Call (410) 352-5055 to start the process. Yes, they make you work for it, but it's worth the effort.
Would you be kind enough to indulge me for a moment? DO NOT BELIEVE the nonsense online and otherwise that the Grove Market is pretentious or rude. Leslie had no idea who I was or that I was there to critique the place. She was also unaware that we were accompanied by two professional chefs. Admittedly, she might not have cared either way, but that notwithstanding, she could not have been nicer, funnier or more gracious. Patrick the server was also responsive, worked hard, and had an instant comeback for every one of my off-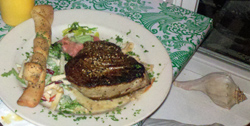 kilter blatherings.
My experience here (I get several hundred emails a week through the site), and writing about food in general has taught me that there are people out there who resent expensive restaurants and/or restaurants where it's difficult to get a reservation. For whatever reason, these people often don't have (or don't want to part with) the

resources to engage in this sort of dining, and they think the world owes them a living because of it. But rather than own up to what might understandably be an embarrassing fact, they fault the restaurant. Mental health professionals call it "projection." Interestingly, those who project their own discomfort or resentment onto a restaurant (or anything else, for that matter) quickly melt into sputtering and nonspecific ums and uhs when they are asked to explain WHY they don't like a place. It works every time.
Whew! I'm glad THAT'S over.
Grove Market is at 12402 St. Martin's Neck Road in Bishopville. Cross the Rt. 90 bridge at 62nd St. in Ocean City, MD and turn right at St.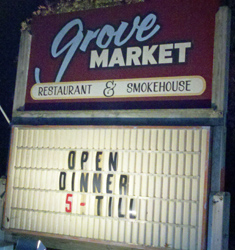 Martin's Neck Road. A minute or so after you pass the Lighthouse Restaurant (don't bother with that place), Grove Market comes up quickly on your left.
Everything is sourced fresh and seasonal, so there is obviously no online menu I can send you to. (D.) Price range: Expensive.