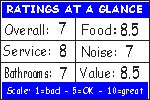 It's not hard to find the Crabcake Factory at 120th St. and Ocean Highway (ocean side) in Ocean City, MD. Flashing signs, blinking lights and neon pointers all beckon you to experience their unexpectedly delicious seafood. Part sports bar, part seafood house with big wooden booths, beer signs and an inordinate number of televisions, it is anything but fine dining. But you don't go to the Crabcake Factory for fine dining. You go for crispy, expertly fried seafood, virtually 100% crabmeat crabcakes, friendly service and a variety of other ocean-going platters, sides and sandwiches.

Of course, the star of the show is the crabcake. They offer two varieties, the "regular," which is a combination of backfin and lump crabmeat, and the "All Lump" which is the top-of-the-line and is formed from (...duh) all lump crabmeat. The standard size for both is about 5oz. The crabcakes are, indeed, almost 100% crabmeat and are deliciously spiced. LOVE that Old Bay. They are served in a variety of combinations as single and double platters, sides, as a "feast," and paired with other seafood goodies. You can even get the crabcakes "to go" and/or mailed to you in dry ice cooler bags.

Years ago, I was given a little booklet entitled, "Never Eat Anything Bigger than Your Head." I've really tried to live by that sage advice, but I find myself backsliding when ordering the New Orleans Po'Boy Sandwich. My favorite is the beer-battered haddock (a white, light flaky fish that responds perfectly to skilled frying techniques). It is one of the FEW THINGS I've ever actually been unable to finish and have taken home. Served on a huge sub roll, the Po'Boy is stuffed with what must be at least a pound of fish, smothered in cool, crispy shredded lettuce, a spicy cajun mayo and tomatoes. You can also get the Po'Boy sandwiches with Corned Beef (if you ever get that, comment below, please), Fried Shrimp (crispy and hot), two Soft Shell Crabs and, of course, a Crab Ball which is basically a fried crabcake.

The steamed spiced shrimp are great as a starter. You can order them in two sizes. Frankly, the "regular" are quite small (I am guessing 38/40) and a little hard to peel and handle. The large (about 16/20s, I suspect) are easier to deal with. Sold by the pound or half pound, they make a great appetizer for the table. You can order them peeled, but the texture is a little softer. I prefer peeling them to get a firmer texture. Crabcake Factory also offers mussels, clams and what they call a "Big Ol' Bowl of Seafood." This is another goodie "for the table," and contains a half-pound each of clams, large peeled shrimp, mussels and Alaskan King Crab. There are so many things on the menu that I ask anyone out there who has ventured southward to Crabcake Factory to please comment below on some of the things I haven't mentioned.

Appetizers are pretty standard, but all of them are good. We have ordered the crab dip (in a big round french bread bowl) and loved it. The Paninis are also quite good (big!) and they have what they call a Boston Lobster Roll, which is not really an official Boston Lobster Roll at all. It's actually a seafood salad sub with chunks of lobster. Yes, it is, indeed, quite good, but they have a little bit of a nerve calling it a "Boston" Lobster Roll. Those of you who have had real lobster rolls in New England know what I mean.

You can't miss it. If you're driving south in OC, look to your left at 120th St. (directly across from the huge Wa-Wa gas station). They get a little carried away inside with the four thousand "no cell phone" signs, but you kind of appreciate the lack of annoying ring-tones after a while. I just turn it to "vibrate." Check them for their hours (410)-250-4900. You never know in the off-season. Click here for the menu at Crabcake Factory. (B. ('til 2p), L., D., Bar) Price Range, Moderate +.