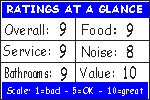 First of all, it's not THAT far. The Millsboro location is about 15 minutes west of Rehoboth Beach on Rt. 24 (turn west at the big McDonald's on Beach Highway). In the middle of Millsboro, Georgia House certainly defines "comfort food." The servers are hurried, but friendly, and the place is spotless (the key is to check the bathrooms). The food is flavorful and consistent.

Some places seem to do things right time after time (sorry, Chronic Complainers, I cannot tell a lie). The first thing you see on the menu is the Fried Green Tomatoes. Georgia House puts a spicy twist on them by serving them with thin-sliced onions ("Georgia Toothpicks"). Regular visitors know of my restaurant chili issues, but Georgia House serves it up with chunky veggies and topped with a dollop of sour cream and a semi-melted spot of cheddar. (I love the hot roasted jalapeno that comes with it.)
I have had the Kentucky Salad many times (green salad studded with their buttermilk fried chicken -- more about that later), and the Field Mix with Roma tomatoes. These stand out, but I've seen all the salads ordered and enjoyed. Ask for the balsamic vinaigrette dressing. It's hearty and flavorful (more about that later, too).

Like any Southern-style restaurant, they offer a veritable plethora (yup, a plethora!) of sides. The list goes on and on: Mac & Cheese, Fried Squash & Zucchini, Turnip Greens, Cinnamon Apples, Sweet Potato casserole, Corn Pudding...to name just a few. They're served in not-too-big portions so you can order a few and not have a traffic jam on your table. The sides vary with the season.

"Miss Vicky's Meatloaf" is at the top of the entree menu and is well spiced and delicious. One of my regular dining companions (an Iron Man triathlete, no less) loves it and puts it away like there's no tomorrow (it's also available as a sandwich with grilled onions and cheese, no less). Speaking of sandwiches, it's hard to find a good club sandwich any more, but Georgia House steps up to the plate with a particularly good one. I like to order a little side of honey mustard dressing and then politely dip the sandwich quarters. Messy? Yes. (The club sandwich is also great dipped into that dark brown and rich balsamic vinaigrette I described above.)
Another star of the show is the Buttermilk Fried Chicken. It is presented in a "knife and fork" style as a dark, crispy butterflied breast. The nice thing about butterflying the breast is that you get a thinner piece of meat and more surface area for the crunchy coating. In the immortal words of the Barefoot Contessa, "So what can be wrong with THAT?"

Other entrees include the Beef Burgundy (served with noodles), the Shepherd's Pie (carbo-load with this meaty dish and leave smiling). There is, of course, the thin and crispy Chicken Fried Steak (cheese added, of course), and the Fish and Chips, crusted with pecan and served Millsboro-style with sweet potato fries. Friends have had the burgers and loved 'em, in addition to the crab cakes and the chicken salad sandwich. I don't have enough space to describe everything on the ample menu, but these are things I've either enjoyed myself or to which I have borne witness. It's definitely worth checking out this well-run eatery.

When they get busy the kitchen can get bogged down. I've had a couple of episodes where some sides didn't make it to the table, or one entree was late in arriving. Not major complaints, mind you, and maybe it's a small price to pay when you know that the things that NEED to be made to order, ARE. See? I promised you honesty.

There are three locations, and the closest one to Rehoboth is in Millsboro at 119 Main Street (302-934-6737) in the "island" between the westbound and eastbound lanes of Rt. 24. (So if you are coming from Rehoboth, look to your left.)

The other two locations are in Milford (302-422-6763) and Selbyville (302-436-6474). They are closed on Sundays and Mondays, so give them a call just to make sure. Click here for a look at the menu. (L., D.) Price range: Moderate -.