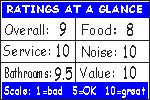 Brothers Su-Kyun Shin and Jay Shin have been chopping, rolling, spritzing and steaming all sorts of goodies for over 50 years combined. In fact, Chef Jay was voted top sushi chef in Lancaster, PA, and between the two of them they've been doing their culinary thing throughout New Jersey, North Carolina, Pennsylvania and Virginia.
After moving to Milford, they finally realized their dream of opening their very own sushi place at the beach, just south of Rt. 9/404 on the west side of Coastal Highway in the old Barista Cafe in Lewes. It's most certainly a family affair up there in Lewes, with Mee Hyung Lee (Su-Kyun's wife) handling kitchen duties and their daughters, Anastasia Ko and Alam Ko taking care of tables.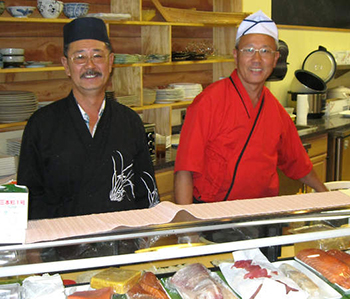 The two brothers are New York City-trained in the modern "fusion" style of sushi and sashimi, where maki is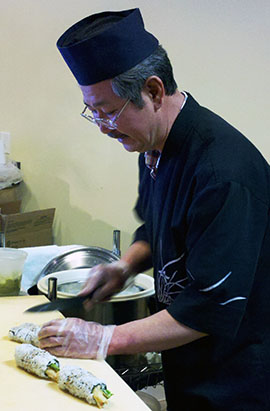 rolled with different types of rice like curry and basmati, and even cheese and Spanish rice. Though Sushi Heaven mercifully stops short of going off the fusion deep-end (like adding cheese and/or rolling ground lamb and capers with Greek-style rice and grape leaves -- think of dolmades, but in reverse), they do pride themselves on their own in-house creations, such as a wide variety of crunchy rolls and brown rice rolls. In addition to rolls and sashimi, Sushi Heaven has several Korean specialties including bi bim bab (rice with veggies) spicy pork dishes, and marinated Korean short ribs (kalhbi). I will admit to being a bit shy of some of the uncooked varieties, and apparently I'm not alone: Sushi Heaven offers 36 different rolls that contain cooked ingredients.
Sushi is quite popular here at the beach, and several loyal Foodettes and Foodies-at-Arms have helped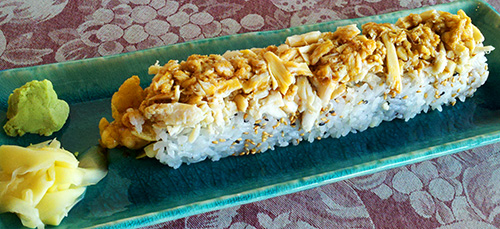 escort me through the world of maki, rice, raw (and cooked) fish, along with the wonderful veggies and spices that go with them. One of my favorite Foodettes is none other than Renee Butler Wright. She loves sushi (the more raw, the better. She says, "Bring it on!"), and she knows exactly what to get, why and how much. She and her husband Steve (tooth-yanker of note at Maplewood Dental Associates on Rt. 24) were kind enough to assist me so I could be as fair as possible to you and to Su-Kyun and Jay.
Renee and Steve's first experience was to-go. I'll insert wise comments and/or clever bons mots as appropriate. (Did you really think I could shut up for three whole paragraphs?)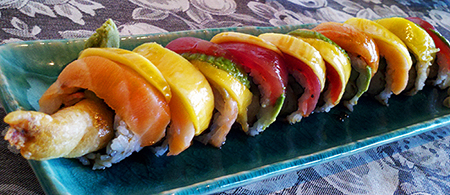 Take it, Renee: "Hi Bob! Steve and I ordered 4 rolls, 6 orders of sashimi, seaweed salad and an order of gyoza [deep fried pork dumplings]. The gyoza were delicious! Steve thought the dipping sauce was a bit salty, but I disagreed. But we all know that I LOVE salt. The seaweed salad was good; standard sushi restaurant seaweed salad, to be sure. Sashimi was fantastic, and Steve even said, "My God it tastes so fresh!" We ordered the Super Volcano Roll [baked crab, avocado, cucumber and spicy tuna] which was very good but not knock your socks off good, and the Tempura Lobster Roll [tempura-fried lobster w/avocado and lump crab, pictured, above right] which was divine. We also ordered the Sushi Heaven Roll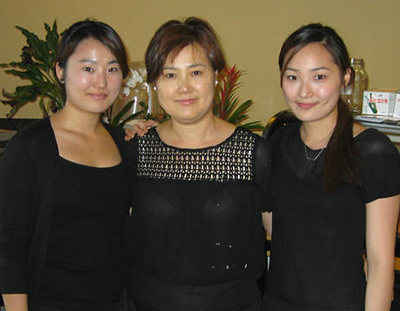 [tempura-fried shrimp, cucumber, salmon w/tuna, mango & avocado, pictured, above left]. They were all delicious. The Godzilla Roll [spicy tuna, asparagus, soy paper wrap, eel and avocado], which changed our lives -- hands down one of the best rolls I've ever had, anywhere. Steve is still talking about it and will probably mumble about it in his sleep! Our total was $123, and we were only able to eat about half of it. So we know what will be for lunch tomorrow. Hope you have a great weekend!"
Never short on words or enthusiasm, Renee describes her next visit. "My lunch today was DELICIOUS!! The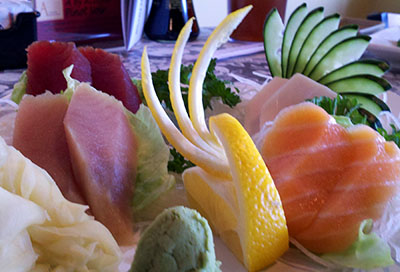 place is so clean I would've eaten off of the floor if they had asked me to [see? I told you she wasn't shy]. The employees were super-friendly and gave us very good service. Heather and I each got one of their lunch specials for $9 each, including soup or salad and 2 rolls. We each opted for the miso soup which was very tasty. I had a spicy tuna roll and a spicy salmon roll. Heather had a tuna/avocado roll and a shrimp tempura roll. They were all delicious; firmly wrapped and expertly cut. A lot of places seem to smother their 'spicy' rolls in seasoned mayo. Not these guys! There was no mayo, but we suspect that they mixed Sriracha into the roll. It was HEAVEN [thank you, Renee, for not saying 'Sushi Heaven' -- waayy too on-the-nose].
"We also had 6 orders of sashimi. Which is why our bill was $74. Had we stuck to the specials, we would have gotten out of there for under $20 ... but what fun is that? I had fatty yellowtail, fresh scallops and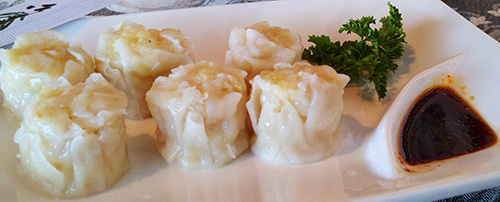 octopus. Heather had tuna, salmon and regular yellowtail. The cuts were generous and everything was ridiculously fresh. The lunch special was a steal, but I wanted to price-check the sashimi. Interestingly, each order of their sashimi is $2-$3 less than the Cultured Pearl. Their sashimi prices are about the same as Stingray. However, at Sushi Heaven you get 3pcs per order, whereas Stingray only gives you 2. So we believe that Sushi Heaven is still the better deal.
"Another thing I really liked was that they didn't go overboard on the rice. Cultured Pearl in Rehoboth Beach seems to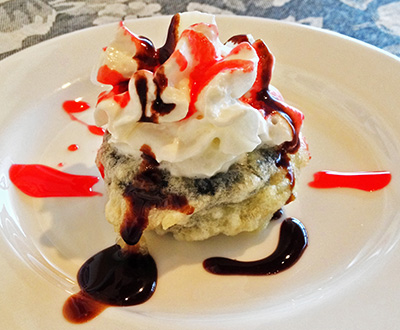 cram as much rice as possible into their rolls, and it's not enjoyable -- it's just a whole lot of rice. At the end of the meal they brought us each a tempura fried Oreo. We didn't order them and I'm not sure if they do that for everyone."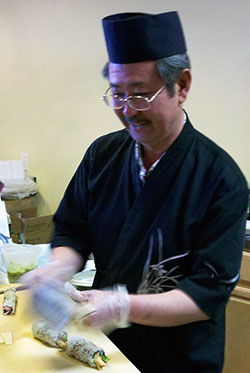 The day Renee and I went together, we had the Lobster Tempura Roll [pictured above], the Sushi Heaven Roll [also pictured above], the 8pc Chef's Choice Sashimi Appetizer [pictured, above left] and the Shumai Dumplings [pictured, right]. They also brought us the complimentary fried Oreo [pictured, left]. I've been making fried Oreos for 20 years. Theirs was drizzled with strawberry sauce and was great. Heck, what's not to like?
The artwork on the walls is simple, clean and interesting with a sepia feel to it. The restaurant is austere and uncluttered. Overall a very pleasant experience.
Sushi Heaven is at 17644 Coastal Highway, directly across from Lewes AutoMall and next to Bling Salon and Pat's Pizza. Visit them on Facebook here. You can call them for carryout (302) 644-2223. The serve beer and wine. They are open for lunch Mon.-Fri. 11:30-2:30, and dinner Mon.-Thurs. 4:30 - 9. They offer a sushi happy hour from 4-6. They are closed on Sundays. (L., D, alcohol, but no bar)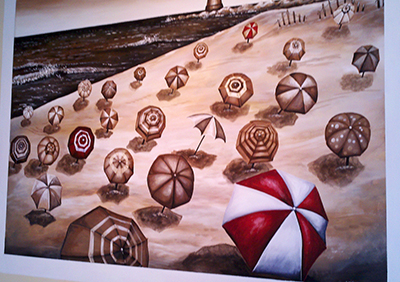 Price range: Moderate +.
The photo of the two Shin brothers together and the photo of the three servers are courtesy of Cape Gazette.