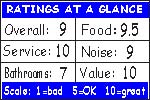 There's nothin' like a fresh, warm bagel. So many transplants tell me how they mourn the loss of their favorite bagel joint in their home towns. New Yorkers wax rhapsodic over H&H. Suburban Marylanders sob quietly over the loss of Bagel City in Rockville (oh, the twists!). Former Philadelphians bicker over who's the best: Four Worlds Bakery, Philadelphia Bagel Co. or South Street Bagels -- among others. But when the sobbing, bickering and waxing subsides, everybody agrees (at least so far) that Surf Bagel in Lewes satisfies their yeasty, crunchy cravings. And, as a former denizen of Rockville who stood in line many an hour to snag a bag of Bagel City's finest, I agree.
Former Maryland firefighter (and inveterate surfer) Dave Vitella created Surf Bagel to combine two of his most sacred passions: surfing, and (of course) fresh bagels. His brother Tom joined the crew shortly thereafter, along with his delightful wife, Liz. They have built Surf Bagel into a required stop for anybody who appreciates the one-of-a-kind texture and taste of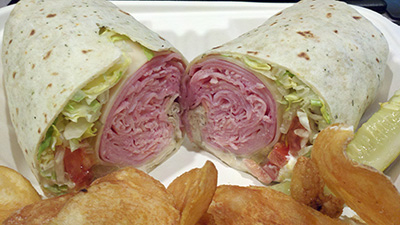 bread that's baked in such an unusual way. The big news is that Surf Bagel has expanded its hours to be open from 6:30 a.m. 'til 8 p.m., with a special menu of hot sandwiches (the regular menu is still available, too). Sundays they close at 1:30 p.m.
Surf Bagel's chicken salad is one of the stars of the show, as far as I'm concerned. It's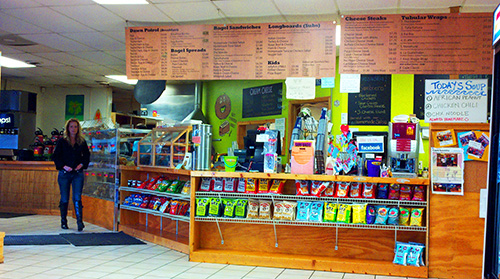 simple, and not too highly spiced. In fact, you can actually taste the chicken! It's generously slathered on pretty much any kind of bagel, or on regular bread if you must (why, I ask...), in wraps (they call them Tubular Wraps), on a soft sub roll, and on top of, under or mixed into various salads. If you like good chicken salad, you will not be disappointed with Surf Bagel's recipe.
Surfers call early-morning surfing "Dawn Patrol." Though many of us might not be found (especially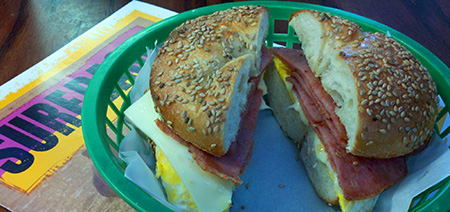 at 6:30 a.m.) bobbing up and down north of the Indian River Inlet in anticipation of the perfect wave (be truthful, now...), we might indeed be found enjoying our own Dawn Patrol at 6:30 a.m. (or more like 10:30, or maybe around 1, or even 7 p.m.) in the form of an impossibly fresh breakfast sandwich. A Dawn Patrol breakfast can start with any one of 18 different bagels, including sesame (a Foodie Favorite), poppy (a close second, along with the egg bagel), salt, multigrain, pumpernickel, garlic, spinach, plain, ET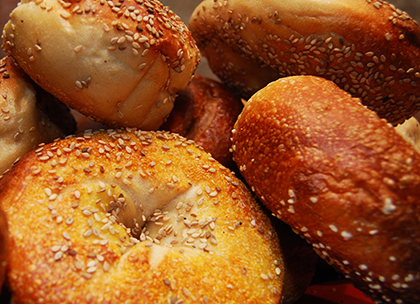 (everything), onion, sun-dried tomato, blueberry, cinnamon raisin, whole wheat, spinach, jalapeño and the "Strider" Bar. You can wax your bagel with butter, peanut butter, several varieties of cream cheese, and lox spread, or decorate it with the ubiquitous Nova and cream cheese. They'll even make it into a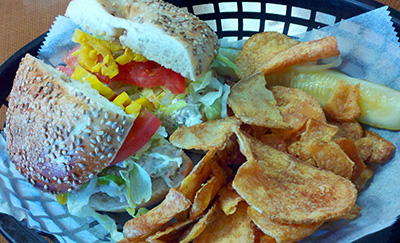 grilled cheese. Just ask.
The mathematically probable combinations of all the available breakfast staples (including Taylor Pork Roll!) would use up all your available RAM, so if you must, feel free to calculate the number of sandwiches -- made on any one of 18 bagels -- that might include egg, cheese, Taylor Pork Roll (love it. Just love it.), bacon, sausage, cheese, fried red and/or green peppers, and more cheese). Or, you can just order the oatmeal with any combination of walnuts, blueberries, strawberries or raisins.
Afternoon sessions move toward the savory. Surf Bagel sandwiches include all the basics like roast beef, tuna/chicken/whitefish salads,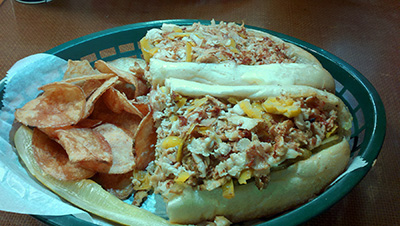 turkey, ham, an Italian combo or just plain ol' veggies. Toppings are virtually unlimited and include crunchy hot peppers if you are so inclined.
The subs are called "Longboards," and are pretty much like the sandwiches ... ummm, except longer. There is one departure from the unexpected, however, and that is the chicken cheesesteak. Surf Bagel's chicken cheesesteak is certainly a sleeper there in Lewes. They don't make a big deal about it, but the perfectly cooked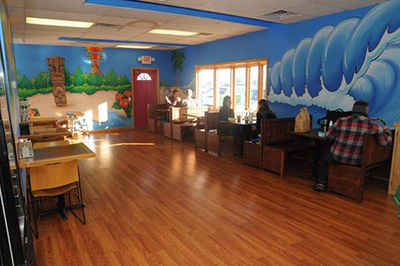 and chopped chicken on the regulation soft sub roll rivals pretty much any other cheesesteak in town. And I do not say that lightly. Give it a try; I think you'll be surprised. The cheesesteaks come in several varieties, including pizza, cajun, Caribbean, Buffalo chicken and the "No Hope" (chicken, red peppers, bacon, 3 cheeses...sort of in the spirit of Pickled Pig Pub's "Pork Flatliner" sandwich). I'll stick with the plain, missionary-style cheesesteak, thank you.
Unless you know the menu at Surf Bagel, don't just pop yourself in line and expect to
know what you want by the time Liz says, "May I help you?" The wrap menu is complicated and requires some thought. So stand back and let the more confident and experienced fressers play through. There's the famous Tuna Kahuna (tuna salad, pineapple, 3 cheeses), the Kai-Boy, the El Jefe, the Aloha, Kiv's burrito, the Flyin' Hawaiian, the Johnny Boy ... the list goes on and on, and each and every Surf Bagel regular has his or her favorite.
Evening Session is a late-afternoon surf just before the sun goes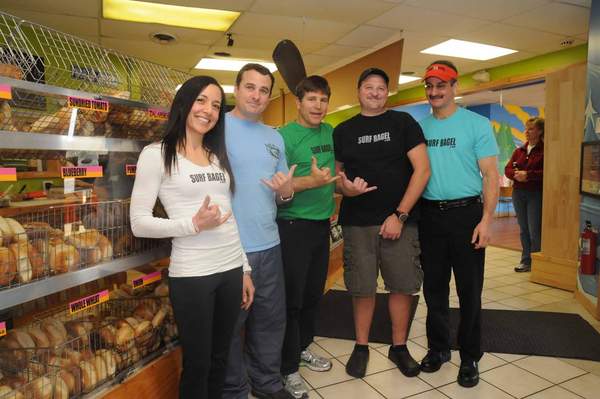 down. And Surf Bagel's own Evening Session is now in full swing. So, instead of getting wet or acquiring a sad case of board rash, just belly-up to the counter for fried appetizers, big salads that include goodies like artichokes, blue cheese, genoa salami, cranberries, roasted walnuts, feta, croutons, olives, almonds (not all in the same salad, for goodness' sakes!). At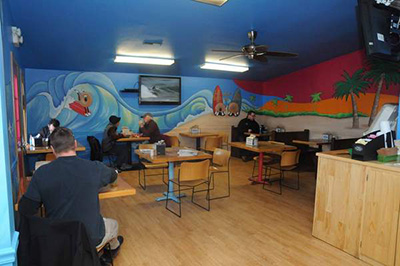 dinner time they also roll out the shrimp or rockfish burritos or tacos, the Shorebreak cheesesteak (with caesar and parm cheese), and the Faceplant (fried eggplant with banana peppers, provolone and toppings on a toasted roll), just to name a few. I don't want to give away all the surprises.
I've saved the best 'til last: Their delightfully crispy made-in-house potato chips! Wow. Potato chips are not easy to make properly, but they are consistently perfect at Surf Bagel. They come with pretty much any sandwich. Do not miss these curly, crackly little gems.
In case you moved here about 45 minutes ago, I'll remind you that Surf Bagel is at 17382 Coastal Highway, next door to Best's Ace Hardware at the corner of Rt. 9/Savannah Rd. and Coastal Highway in Lewes. If you are coming from the Rehoboth Beach direction, you will have to execute a death-defying U-turn, but, trust me, the homemade potato chips are worth it. Keep your eyes on the road and your mind on the chip.
They will prepare pretty much anything for take-out (302) 644-1822. Hours are 6:30 a.m. 'til 8 p.m. every day except Sunday (6:30 a.m. 'til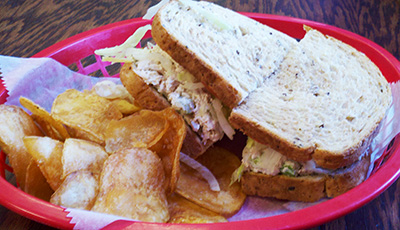 1:30 p.m.). Click here to see their extensive menu and to bone up on the selections before you take up a place in line. Also take a look at some cool kids surfing by clicking here (a few make cameo appearances on the menu!). (B, L, D, No bar). Price range: Inexpensive.
(Dining room and staff photos taken by Steven Billups and are courtesy of Cape Gazette.)
Put down that mouse and step away from your email box! Yes, I awarded Surf Bagel a 9.5 for food. Remember -- my ratings are NOT comparisons of one restaurant to another. We review too many different types of restaurant to do that fairly. The ratings state how well a restaurant achieves what they set out to do. Do they give you good value for your money? Do you get what you expect when you go there? We believe the answer to those questions is "yes" when it comes to Surf Bagel. Review Ratings & Standards here.