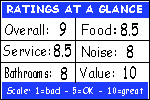 Striper Bites is one of the DiSabatino family's trinity of popular Lewes eateries (along with Kindle and Half-Full), and it's as much a bar as it is a restaurant. The menu entreats you to "Please Your Palate...Raise Your Spirits," and you can do both quite well at Striper Bites. Entering the restaurant is like walking onto a dock, with wide plank wooden floors, multiple levels and lots of maritime tchotchkes, including two seemingly unreachable fishtanks high above the bar. The place is a party for your eyes.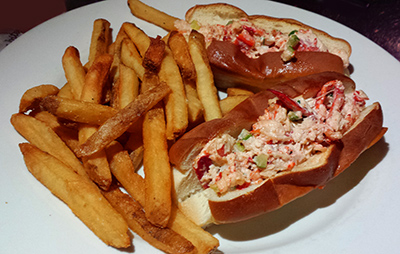 Striper Bites offers a selection of appetizers, with three notables: The first is the Lewes Beach Bruschetta. Grilled squash, tomatoes and cheese are stacked on toasted sourdough and drizzled with pesto and a pungent balsamic reduction. I suggest ordering it "for the table," as it's as filling as it is tasty. The other standout is the Bacon Wrapped Scallops. Except for one time when the scallops were mushy (slightly undercooked, perhaps?), this dish has never failed to satisfy. I ask for extra wasabi. Number three on the appetizer hit parade is the Crab Bisque, and it is definitely the star of the appetizer show: Not too thick and pasty, with a hint of sherry and a surprising amount of crabmeat. I also like the Striper Bites House Salad (hints of Greek and Italian play well together). Top any of their salads with your favorite protein and make it a main course for only a few more bucks.
I'm a pushover for a good club sandwich, and the Striper Bites Club offers an interesting variation on the theme. The standard turkey component is replaced by Blackened Mahi-Mahi (dorado, or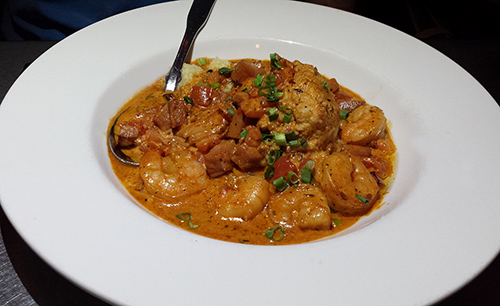 dolphinfish -- no, not a dolphin), and agrees nicely with the bacon, lettuce and tomato. The Caesar dressing was a pleasant surprise and worked well with the blackening spices. I've had the Maine Lobster Roll (more about that below), and also the Fried Flounder Sandwich (fried to a crispy crunch, presented simply with lettuce and tomato on sourdough).
UPDATE! This paragraph used to contain a bit of whining that they didn't make the Maine Lobster Roll available at dinner. It's their restaurant, of course, but I have to admit that I went on about it. Surprise! The Lobster Roll is now on the menu! Thanks, diSabatinos and Crandalls! I don't presume you did it because of my grousing, but either way, I can now enjoy your particularly tasty lobster roll at night.
On the most recent visit (early spring, 2013), I had the Bites Burger (add bacon, thank you) and it was quite good. I've also had the Blackened Tuna Pasta (very simple, over penne with a nice cream sauce lightly laced with fennel) and the Asiago Scallops (grilled lightly brown in a not-too-cheesy sauce with tomatoes, veggies and pesto). Both are consistent and quite good. Accompanying diners have enjoyed the Crab Cake, and their Sesame Encrusted "Asian" Salmon with a bright cilantro/soy Asian bent. If you are eating (relatively) light, the Salmon is something to consider.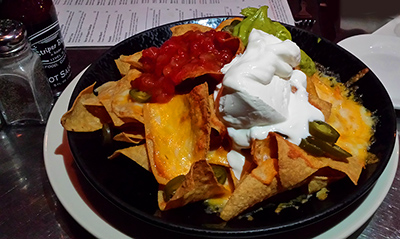 YET ANOTHER UPDATE! Well, it's winter, 2013 and we are back at Striper Bites. If anything, this place has gotten even better (and the Ratings at a Glance have been adjusted to reflect that). I ordered the lobster rolls [pictured, left] yet again, and they were delicious. The ultra-light dijon dressing allows the lobster meat to shine through. The authentic buttered split-top roll seals the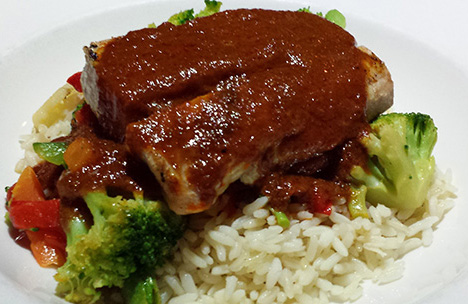 deal. Another member of our party enjoyed the Shrimp & Grits [pictured, right]. The grits are the star of the show on this plate; perfectly buttery and creamy. Country ham shares the plate with a generous portion of shrimp. This one's well worth the $21 price tag.
We started with the nachos (or, as they say on the menu, nachooooos) [pictured, left] and they were quite good. One of the reasons is the warm, toasty and very crunchy chips. They even hold their crunch during the meal, inspite of the salsa and guacamole ladeled overtop. You can get crab meat or chicken on top for a small upcharge. The guac on top cost us a dollar. Very fair for the huge portion. We'll certainly get these again!
If you are lucky enough to visit Striper Bites on a Thursday, you might have the pleasure of being waited on by Andrew [pictured, left]. He is the über bartender/server who zips all over the place like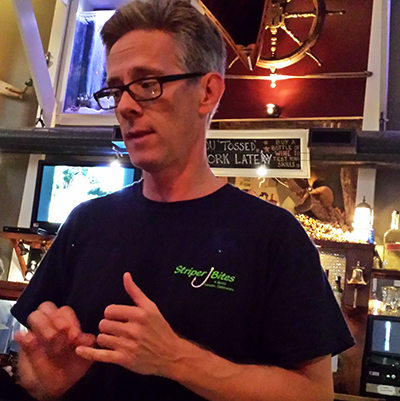 Lestat after a double caramel Macchiato with an extra shot. On out most recent visit, the bar/bar tables were about 3/4 full when a party og about 8 thirsty looking locals staggered in. This is a bartender/server's worst nightmare, but Andrew just ramped up the speed and everybody got taken care of quickly, with a smile and a joke.
Striper Bites is located right in the heart of Lewes at 107 Savannah Road. Going north toward the canal, just pass Second Street and there it is on the right. In the summer you can plop on the porch, sip your favorite from their long list of aptly named libations, and ogle the local foot traffic. They have off-season specials during the week (check the list on this site), and they do close for a while in the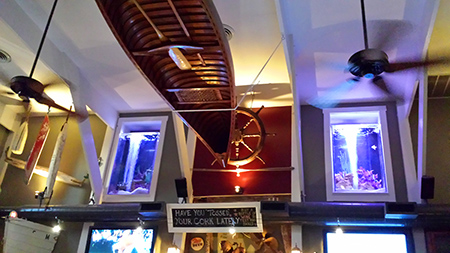 winter, so call them at 302-645-4657 just to make sure. Click here for the dinner menu at Striper Bites. (L., D., Bar) Price range: Moderate.