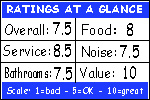 Several establishments to the south have been crying out for attention, and now that the seasonal dust has settled I promise to visit all of them. Remember that I go three times before I write about places, so it takes me a while. One eatery about which I have received several emails is the Penguin Diner in Bethany Beach, and last night I completed my last visit.
Things don't get much beachier than the Penguin Diner. Situated in downtown Bethany on the north side of the Ocean Block of Garfield Parkway, it naturally shows the wear and tear inflicted by the summer parade of families, children, teenagers and pretty much everybody else filing in and out for beach eats. But that's part of its personality, and the whole penguin theme is festive and cute. (The menu offers Pengwiches -- served with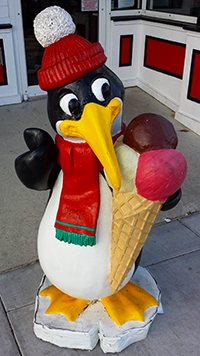 Penguin Chips -- and Penguin Cakes -- with butter and syrup -- among other penguin-themed items.) Interestingly, they do serve alcohol and encourage breakfasty mimosas and bloody marys. DFH, Corona, Corona Light, Miller Lite and PBRs are available, along with a selection of 3 wines. There is a table tent with "adult drinks" that includes, among other cocktails, an Orange Crush with Stoli, Jack & Coke (welcome to Bethany Beach), and, for the nostalgically inclined, a Cape Cod.
My first visit was solo during a mid-summer lunchtime. The place was busy, noisy and full of activity. (In the back there's a little penguin store that attracts children by the thousands -- or at least it seemed that way.) I plopped at the counter and ordered the Beany's Bacon Cheddar Burger (touted as a "treat for any hungry penguin"). The 10-oz. burger was generous and cooked to my specifications (MW -- the safe minimum for burgers). It was during this visit that I experienced the Penguin Chips [see them with the crabcake photo]. These are some of the best house-made potato chips I have had here at the beach. Totally non-greasy and crunchy, and they remain so throughout the meal. They are fried to a dark, golden crisp and do not stick together soggy on the inside like some housemade chips. That is because somebody is constantly stirring them in the oil.
I strive for anonymity on my first couple of visits, so I will go back and get a good photo of the burger. Another value-added is the delicious roll. It's warm, sort of eggy, fresh and soft (as a regulation burger roll should be!) with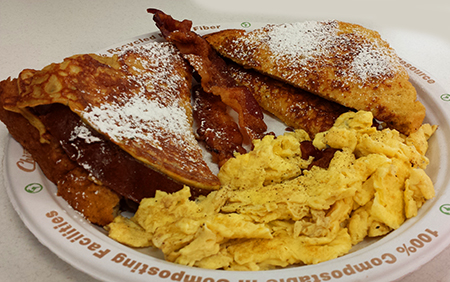 a golden top. In fact it reminds me of the rolls at Big Fish Grill and Summer House here in Rehoboth Beach. And that is a good thing.
Another visit involved breakfast; namely french toast with scrambles and bacon [pictured, right]. Scrambles are scrambles, and these were fine, and the french toast was quite good, with lots of custardy coating throughout. Grilled quickly over high heat, the outside was darkly savory while the inside remained creamy. Though I didn't try the omelets, the ones in my immediate vicinity were generous and not overcooked. The Penguin Diner offers 19 (count 'em -- 19!) possible omelet fillings (including nova for a slight upcharge). I am now forced to return for one of these penguin-approved dishes. And this time I will come back with photos.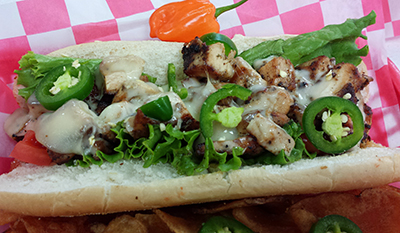 The Chicken Cheesesteak Sub [pictured, left] is also served on a fresh roll and involves souvlaki-style cubes of white-meat chicken bound together with provolone. Note that I added jalapeno peppers. (They are of course optional.) The chicken was nicely grilled, lean and portioned generously. I have to reiterate that the roll was quite good and really made the sandwich.
In an attempt to kick things up a bit at the Penguin Diner, the owners recently brought on board Ted Dolby, a fixture here in Delaware, and one of the chefs at Square One and LaLa Land toward the end of their time.
On our most recent visit he was in the process of changing things on the menu, and had just added a crab cake [sandwich pictured right with those good chips] of which he was quite proud. He is friendly, and engaged me in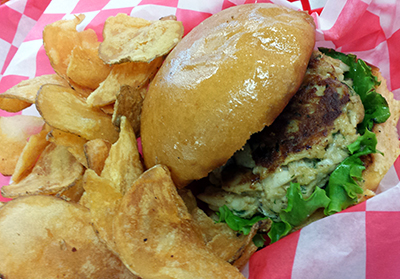 conversation (though I'm sure I retained my anonymity -- at least I think I did). His version of the crab cake wasn't yet on the menu, but he mounted a great sales pitch and I succumbed. And I'm glad I did. Chunks of sweet crabmeat were bound together loosely with very little filler, and no overt spice tromped on the delicate taste of the meat. It was grilled to a golden crust on both sides and served with those magical house-made chips. The warm, moist and eggy roll made it all the better, along with a tasty tarragon tartar sauce that worked quite well with the simple crab cake. I would order this one any time, and it rivals pretty much any crab cake north of there. There. I said it.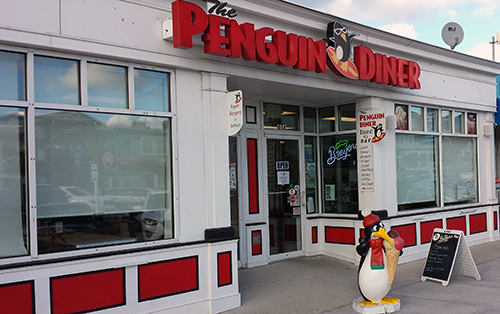 The Penguin Diner is at 105 Garfield Parkway, ocean block, north side. The huge red sign is big enough to attract aircraft. Check out their full menu by clicking here. In-season hours are 8a - 9p daily, off-season Fri. thru Sun. and holidays from 9a - 3p. Visit them on Facebook. (B, L, D. (in season), counter with alcohol -- not really a bar). Price range: Moderate -.
The bathrooms are average, but received an extra half-a-point because hot water was readily available after a very short wait. This is a rare thing, but VERY commendable. Keep up the good work, Penguins!